Swiss Re SONAR: New emerging risk insights
June 15 2017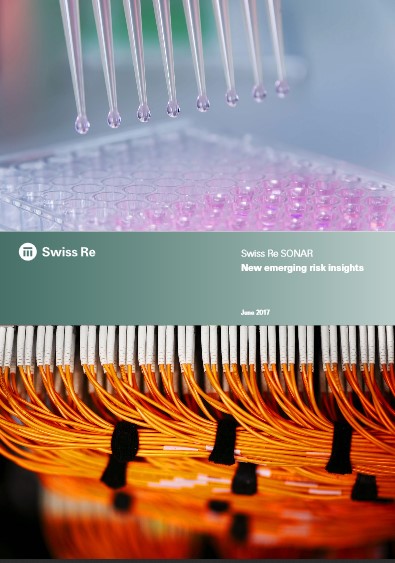 Reduced market access, regulatory fragmentation, the return of inflation, cloud risk accumulation, but also emerging liability legislation for artificial intelligence, are some of the key risks identified in this year's SONAR report published today. The publication is based on the SONAR process, a crowdsourcing tool drawing on Swiss Re's unique internal risk management expertise to pick up early signals of what lies beyond the horizon.
The report offers insights into emerging risks and highlights a number of emerging trend spotlights. Emerging risks are newly developing or evolving risks that are difficult to quantify and sometimes not fully understood, but potentially have an impact on the industry and society. Emerging trend spotlights examine early development, which may offer both opportunities and risks for the insurance industry in the future. The report is widely distributed among clients and the wider stakeholder community in order to inform the debate about emerging risks and facilitate the finding of solutions.
"Ignoring emerging risks is not an option, neither for political decision-makers, the insurance industry, nor society as a whole. The earlier we adapt to these changes, the better prepared we will be", says Patrick Raaflaub, Swiss Re's Group Chief Risk Officer. "Sharing knowledge through a proactive risk dialogue across stakeholders can help the insurance industry create a proactive and pre-emptive risk management culture that enables disciplined risk taking.
That is an important step to help society as a whole to become more resilient", Raaflaub adds.
The identified risks are relevant to life and non-life insurance areas as well as asset management. They are presented with the goal of helping industry players prepare for new scenarios by adapting their behaviour, market conduct and product portfolios.