Wednesday October 24 2018
Latest News
View all
The underinsurance gap for Asian countries has widened by 9.4% to US$134bn from US$122.5bn.

Fast growing Pacific Century-owned insurer expands again in key market.

Senior member of Swiss Re Corporate Solutions North Asia team departs.

The Lloyd's specialty firm makes multiple regional hires from competitors.
Insights
View all
In Malaysia and India international players are asserting their right to compete on a level playing field — with mixed success.

Another costly hurricane season is piling up losses for the reinsurance industry, without much upward pressure on rates.

The city is set to introduce laws to allow special purpose vehicles to issue insurance-linked securities.
Partner Content
How do we integrate talent, technology and work together to build societal resilience in our changing world?
Join the mailing list
Receive our weekly newsletter, a round-up of the top news and views direct to your inbox, and designed to help you stay ahead.
Print Edition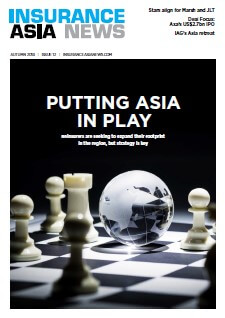 Subscribe to receive our quarterly print magazine.
White Papers
View all
A so-called toxic trio of hazardous chemicals used in personal care products threatens to expose latent liabilities.

Growth in EV was a positive across almost all markets and new business margins continued to increase in most markets.