Monday December 17 2018
Latest News
View all
Insurers and reinsurers could surpass the US$144bn paid out in 2017.

Foreign firms could provide better quality products and distribution.

One of Japan's largest insurers is looking to diversify in the US through an investment of up to US$2.6bn.

Two experienced financial lines professionals will bolster the firm's Asia arm in 2019.
Insights
View all
New reinsurance regulations published this week maintain the status quo.

Peak Re launched Asia's first sidecar transaction, attracting US$75m of international capital.

Large valuation discrepancies could fuel further insurance acquisitions in 2019.
Partner Content
Chris Kershaw, Managing Director, Global Markets at Peak Re, talks about the market outlook for reinsurers and how the industry is adapting to the new normal.

How do we integrate talent, technology and work together to build societal resilience in our changing world?
Join the mailing list
Receive our weekly newsletter, a round-up of the top news and views direct to your inbox, and designed to help you stay ahead.
Print Edition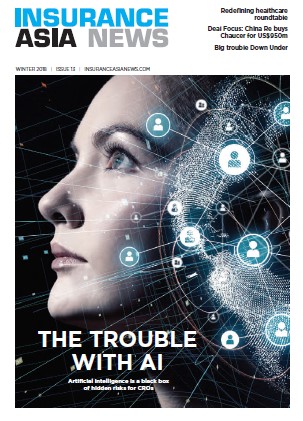 Subscribe to receive our quarterly print magazine.
White Papers
View all
What should insurers do today to prepare for tomorrow?

Relevance of Mutual and Cooperative - Lessons learned from developed Europe and Asia