Swiss Re: Japan's commercial insurance market
January 20 2017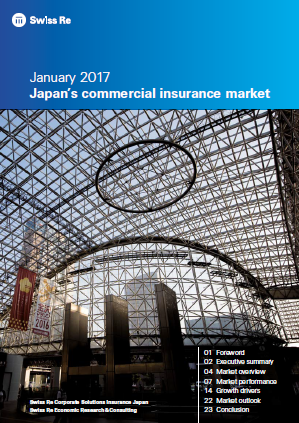 Japanese firms face a wide array of risks, including fire and earthquakes, which can result in significant losses. In this study, we find that Japan has the world's biggest protection gap in property. In other words, the difference between the amount of property insured and the total amount of property that should be insured is larger in Japan than anywhere else in the world.
The risk landscape for business is forever changing alongside evolving economic and legal environments, and new risks are constantly emerging (eg, cyber security) due to developments in technology, globalisation and geopolitical events. Many large Japanese corporations operate globally, and the number of small- and medium-sized firms expanding overseas is on the rise also. As such, Japanese companies are increasingly exposed to liability and other risks in foreign markets, where they face very different regulatory and operating conditions.
How companies manage these risks has a great impact on their market value, their financial strength and their ability to fund projects. Some risks are part of a firm's core business and can be sensibly retained, while others are better-suited for transfer to the insurance market. Commercial insurers play a key role in helping firms to manage these risks. Insurance-buying should be part of a company's overall risk management.
Given the diversity and changing nature of risks, firms must constantly reassess whether to insure or to retain their risks. This report analyses the key risks Japanese companies are facing in light of Japan's shifting economic structure and emerging business trends. Firms should actively engage in risk management as an integral component of their business activities. We look forward to having the chance to discuss further with you how to reduce your company's exposure to potential losses and be best risk-protected for future growth.