SCOR Global Life: The impact of different screening scenerios on breast cancer incidence
September 8 2015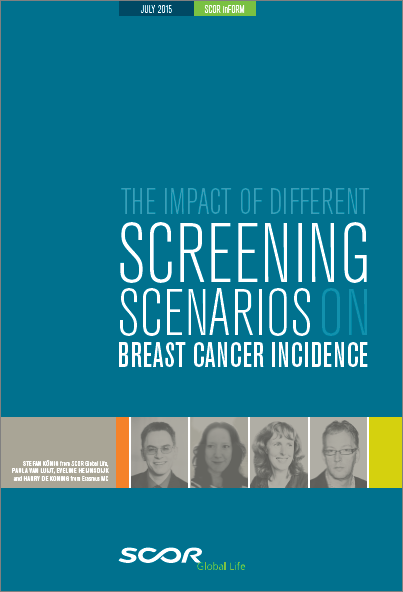 The trend of cancer incidences is one of the key questions for developing critical illness (CI) and cancer insurance products with a sustainable price.
One of the identified (risk) factors is the availability and/or introduction of screening programs for cancer, which will impact the level of detection of early cancers and can lead to strong increases in incidences. Among the common cancer screenings available, breast cancer is one of the key cancer types, representing around 25% of all female cancer incidences.
In cooperation with the Department of Public Health of the Erasmus Medical Center University, a leading institute on modelling cancer screening effects, SCOR Global Life gives a deeper insight on the effect of breast cancer screening.
The results from this work give a deeper insight into the risk of changes in screening practice both from a forward looking perspective for countries without existing screening programs and retroactively to understand population data and claims experience not only in the Netherlands and on breast cancer but also worldwide with a more general view on products where breast cancer is only one of many covered conditions.
Partner Content
Asia's insurance market needs to embrace digital and data capabilities to improve client satisfaction.

Innovation and expertise are key to (re)insuring the country's ambitious transition-to-renewables story.

Underwriter Victoria Soo and Senior Risk Analyst Daryl Soh on how credit insurance helps finance infrastructure projects and other ESG investments.