PwC: Insurance 2020 and beyond—Necessity is the mother of reinvention
July 13 2015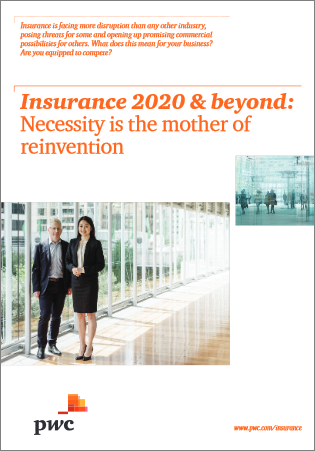 We put forward our perspectives on the future of insurance at the 2011 International Insurance Society (IIS) Annual Forum in Toronto and followed up with the publication of Insurance 2020: Turning Change into opportunity. This introductory paper was followed by a series of perspectives focusing on particular segments such as life insurance, broking and reinsurance, as well as specific drivers of change such as culture and digital developments.
Insurers and industry stakeholders have been using Insurance 2020 to help them judge the implications of these trends for their particular organisations and determine the strategies needed to respond. Insurance 2020's central message is that whatever organisations are doing in the short-term – whether dealing with market movements or just going about day-to-day business – they need to be looking at how to keep pace with the sweeping social, technological, environmental, economic and political (STEEP) developments ahead.
Now we're at the mid-point between 2010 and 2020, we thought it would be useful to review the developments we've seen to date against our initial projections and look ahead to the major trends coming up over the next five years and beyond.
So where are we now? Insurance is an industry at a pivotal juncture as it grapples with the impact of new technology, new distribution models, changing customer behaviour and more exacting local, regional and global regulations. For some businesses, these developments are a potential source of disruption. The insurance industry leaders taking part in our latest global CEO survey see more disruption ahead than CEOs in any other commercial sector, underlining the need for strategic re-evaluation and possible re-orientation. Yet for others, change offers competitive advantage. A telling indication of the mixed mood within the industry is that while nearly 60% of insurance CEOs see more opportunities than three years ago, almost the same proportion (61%) see more threats.
The long-term opportunities for insurers in a world where people are living longer and have more wealth to protect are evident. But they are also bringing fresh competition, both from within the insurance industry, and a raft of new entrants coming in from outside. The entrants include companies from other financial services sectors, technology giants, health care companies, venture capital firms and nimble new start-ups.