PwC: Global InsurTech Report – 2017
July 4 2017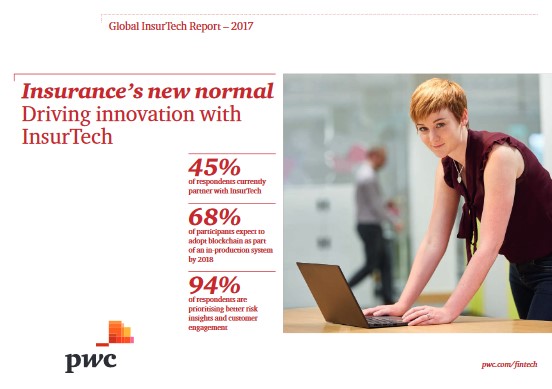 The pace of change in the Financial Services industry is accelerating, and while the insurance world won't change overnight, many have begun to look outside their own organisations in order to respond to challenges and take opportunities. New products and services are developing which meet the needs of an expanding and changing customer base. Costs will begin to decrease as new ways of doing business evolve and emerging technologies, such as artificial intelligence (AI) and the Internet of Things (IoT), not only provide customers with a better experience, but also streamline back office operations. InsurTech is reshaping the insurance industry. Previously viewed as a disruptive force, it is now driving innovation across the sector.
The insights in this report are based on the responses of 189 senior Insurance Sector executives from 40 countries who participated in PwC's Global FinTech Survey 2017. With an editorial board made up of specialists from around the world we complemented the report with our own insights and analysis into how InsurTech and Insurance are moving closer together and how insurance is innovating in response to InsurTech. The report is also fuelled by proprietary research from PwC's DeNovo, focused on InsurTech innovation and its impact on business
Partner Content
Digital transformation is at the heart of bridging protection gap and removing bottlenecks for farm cover in China and India.

Underwriter Victoria Soo and Senior Risk Analyst Daryl Soh on how credit insurance helps finance infrastructure projects and other ESG investments.