PineBridge Investments: Uncharted Territory
September 5 2016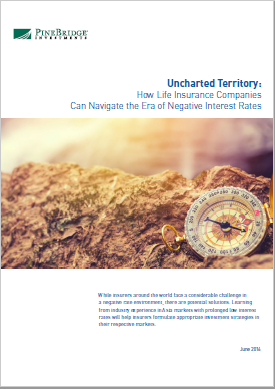 While insurers around the world face a considerable challenge in a negative rate environment, there are potential solutions. Learning from industry experience in Asia markets with prolonged low interest rates will help insurers formulate appropriate investment strategies in their respective markets.
A prolonged period of low interest rates has beset insurance companies for more than a decade. Now, the adoption of negative interest rates by
a number of central banks in Europe as well as Japan is steering the industry into uncharted territory.
Traditionally, local government bonds are one of the major asset classes life insurers use for asset-liability management. But the new era of negative rates means that traditional approaches will struggle to help insurers meet their return requirements. This, plus the relatively small size of the local corporate bond markets, leaves insurance companies with limited options.
While insurers are facing a considerable challenge, they are not empty handed. The continual fall in yields has given them an incentive to take offshore credit risk for yield enhancement as well as diversification. But it's important to realize that there is no one perfect solution; each insurer needs to determine the best asset allocation strategy to address the "negative world order."
Partner Content
A longer claims process and increased cost were some of the challenges faced by insurers.

Tropical cyclones have always been a significant peril in Asia and a major focus for risk assessment in the region.