Peak Re: Peak Insights 2018
October 30 2018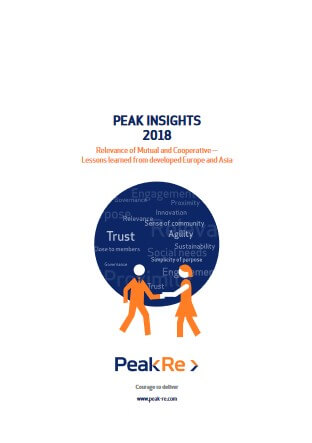 Mutuals and Cooperatives and Community based Organisations (MCCOs) are initially non-profit organisations which have supported economic development and social stability. Their rise in popularity was built around relevance and simplicity of purpose to members, long before the existence of a social welfare system. Today, while social welfare is common in developed countries, MCCOs still have a role to play as supplement to the social welfare system and to commercial insurers.
In most markets, MCCOs are major market participants of the insurance sector. They continue to gain popularity – which highlights the solidarity and sustainability concepts behind it. As they help members in risk prevention and after an unforeseen event, MCCOs are viewed to be good corporate citizens. This attribute, in return, positively contributes to their reputation and market presence. MCCOs are not only relevant to members, but also to employees. Size is a potential constraint to transparency between MCCOs and their members and employees. Hence, MCCOs need solutions to remain agile in addressing social and economic changes and adapting to regulatory trends. Good and effective governance is one of the several ways to address this potential issue. It is essential to stay connected with relevant parties and to meet performance targets by generating income to build capital reserve, as MCCOs are subject to regulatory supervision just like their commercial peers.
Also, stringent capital requirements could lead MCCOs to search for external capital or contingent capital to meet solvency requirements. Third party capital includes reinsurance capacity, subordinated debt and equity. Unlike their commercial peers, MCCOs have greater difficulty to issue subordinated debt and raise equity, due to the lack of permanent capital as they are member based mutual organisations. For those who are seeking capital, a proven track record of operating performance is some of the aspects that external investors would consider. Again, governance is intended to safeguard the longevity of the organisations, therefore, good and effective governance is viewed as a means to attract external capital.
This report aims to understand how MCCOs can remain sustainable and financially sound; and how they remain relevant to society while addressing regulatory requirements and potentially external investors. Our intention is to support their development as MCCOs have proved more suitable to meet specific needs in certain circumstances.
Partner Content
The year 2021 will be critical for insurers to ensure they are ready for new regulations set to arrive in 2023.