Norton Rose Fulbright: 2016 Insurance regulation in Asia Pacific
March 3 2016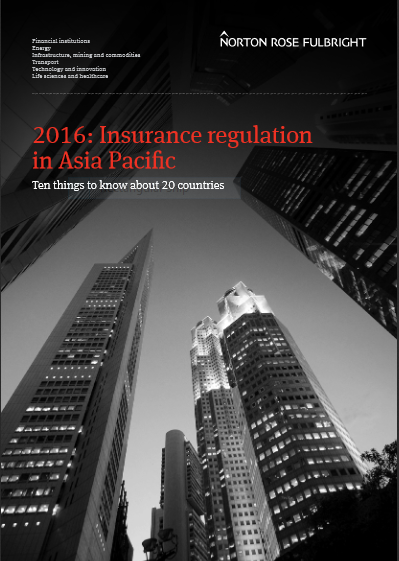 We are pleased to present the 2016, and the third edition of Insurance regulation in Asia Pacific – Ten things to know about 20 countries. Thank you to our clients, contacts and regulators for your support and contribution.
The purpose of this guide is to provide an overview and practical checklist of ten common regulatory issues for insurance companies on which we frequently are asked to advise upon for the key Asia Pacific jurisdictions where most of our clients operate or in which they are interested in expanding. It identifies the regulator and whether branches of foreign insurance companies are permitted or only locally incorporated companies. Any restriction on foreign direct investment is highlighted along with the controller regimes (shareholders and management) and whether a notification or approval from the regulator is required upon proposed or actual change of control and the thresholds thereof. Also addressed is the nature of the regulatory capital regime, whether there is group supervision and policyholder protection, and whether outsourcing is subject to regulatory oversight. We aim for this guide to be a useful first stop for generic advice on the topics covered.
The information is up to date as at January 2016. It is not a substitute for considered legal advice
Partner Content
The consultant is exploring potential acquisitions in Australia and New Zealand, and expanding its footprint in South-East Asia, Korea and Japan.

Managing these daunting risks will require a multi-stakeholder approach to risk identification, financing and mitigation.

Electric ferries are increasing in popularity but there is plenty of work ahead to move away from ships using heavy diesel oil.