Milliman: Embedded value results, Asia ex-Japan
November 20 2016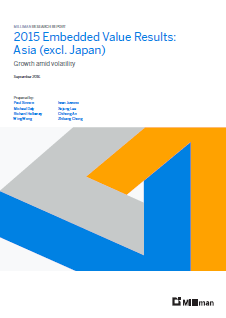 Asia's economic growth in 2015 has helped fuel double-digit percentage rises in life insurance premiums in several emerging markets. Growth in EV in most markets has also been positive, although generally lower than in 2014. The further falls in certain Asian yield curves have been putting pressure on EV results, causing economic assumptions to be 'stretched' in some cases.
The objective of our report is to help compare and contrast the various different approaches taken to EV reporting across Asian markets and insurers. A report on 2016 Mid-Year Embedded Value results for Asia (excluding Japan) will be produced later in the year, containing commentary on the reported mid-year 2016 EV results, as well as any 2015 year-end reporting not disclosed in time for this report. We have also published a report on 2015 Embedded Value results for Europe, containing commentary on the reported EV results of European companies.
Once again, we would appreciate any feedback you have on our report content and format.