Milliman: Potential implications of the ASEAN Economic Community for the life insurance industry
August 5 2015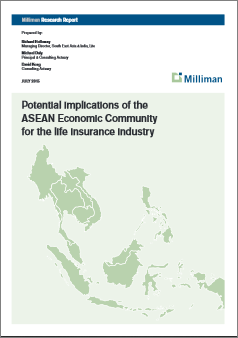 As the deadline for implementation of the AEC approaches, many industry practitioners in the Association of Southeast Asian Nations (ASEAN) and beyond are focusing greater attention on the similarities and differences between the insurance markets in the region and how the rollout is likely to affect the insurance industry. Milliman carried out an online survey in early 2014 to gauge the views of life insurance executives working in the ASEAN countries on the implementation of AEC.
Partner Content
Digital transformation is at the heart of bridging protection gap and removing bottlenecks for farm cover in China and India.

Underwriter Victoria Soo and Senior Risk Analyst Daryl Soh on how credit insurance helps finance infrastructure projects and other ESG investments.