Milliman: Participating Business in Asia
June 15 2017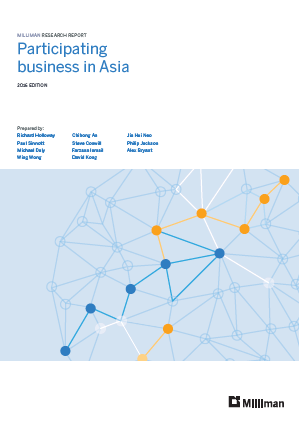 Introduction
Participating (par) insurance products represent a significant proportion of the life insurance business in many Asian markets. While the widespread popularity points to some commonality across the region, each country has its own variants and factors that have contributed to the growth of par business.
This report provides a comprehensive overview of par business from across the region, looked at through three lenses:
A regional view, focusing on how countries compare with each other and identifying common themes across markets.
A brief analysis of par by country, highlighting the major issues, changes, and regulations that define the local business environment for par business today.
A detailed country report for major par markets. In many Asian countries, insurance statistics for par business are either unavailable, compiled at a high level or spread across a number of different sources.
To bridge these gaps, we have combined:
Secondary data from industry statistics and annual reports, merged with proxies where credible and relevant
Primary data from a survey of industry participants to add more qualitative analysis and to plug gaps in the secondary data
Experience and anecdotal information gained from our consultants working across the region
While universal life is also a popular platform in Asia, and can often have many similarities with par, we have not included such products in our study. Comments are restricted only to products classified as par in each country.
Given that substantial work on this report was done in 2016, we understand that market conditions (e.g., yields) would have changed since then. Hence, the market conditions referred to in this report do not reflect current market conditions as of the published date.
We hope you find the information helpful, and the analysis illuminating.