Milliman: Asia Retirement Income Report
May 9 2017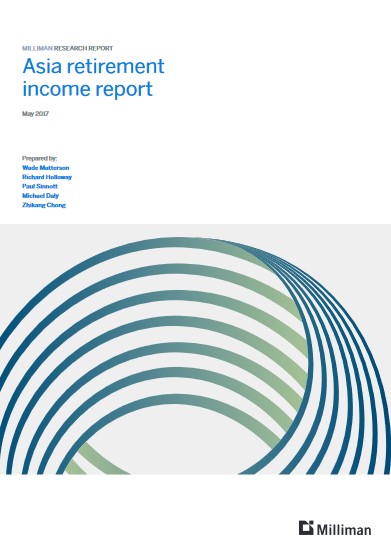 Milliman has released a comprehensive new research report analysing the current and future state of the retirement income market in the Asia-Pacific region. The report is based on a survey of more than 100 insurance companies and financial institutions across eight countries. The results, supported with case studies and in-depth analysis, provide insight into the economic and regulatory factors most affecting Asian retirement income markets. Topics include consumer demand, product development, and growth opportunities for organisations that are a part of the retirement income ecosystem.
"Technology advancements have now made it possible for financial institutions to provide consumers with tailored investment strategies and product solutions to achieve their goals in retirement. The development of robo-advice has begun to gain traction in the superannuation industry in Australia, and we expect the same to occur in Asia in the near future," said Milliman Australia Practice Leader Wade Matterson.
"As life expectancy continues to increase across Asia-Pacific, there is the potential for private market providers to complement and fill gaps that exist from government-sponsored retirement systems and employer-sponsored pension arrangements," said Richard Holloway, Milliman's Managing Director for South East Asia and India, Life insurance consulting. "This report provides valuable insights into the opportunities that exist across different countries, offering perspectives on ways to seize such opportunities."
Partner Content
Digital transformation is at the heart of bridging protection gap and removing bottlenecks for farm cover in China and India.

Underwriter Victoria Soo and Senior Risk Analyst Daryl Soh on how credit insurance helps finance infrastructure projects and other ESG investments.