Milliman: 2017 Mid-Year Embedded Value Results: Asia (excl. Japan)
December 13 2017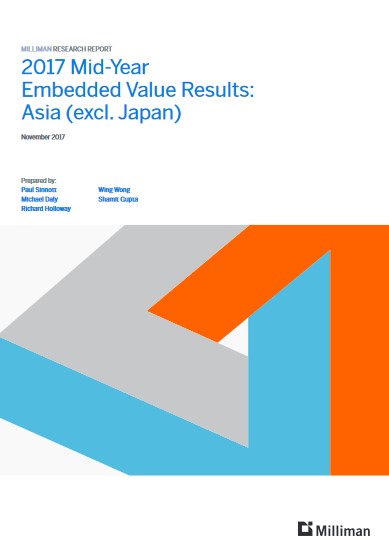 We are pleased to present our Asian embedded value mid-year 2017 update. This report supplements the "2016 Embedded Value Results: Asia (excl. Japan)" report, which was released in August 2017, and provides a summary of the mid-year 2017 embedded value results disclosed by Asian insurers. An update of the India section of our full-year report is also included to incorporate results that emerged more recently as a result of the market's March financial year-end.
Growth in life insurance premiums continues to be on the rise for several emerging markets. Most companies in the region have reported steady growth in embedded values in the first half of the year, somewhat higher than what was seen in the first half of last year. Many Asian markets continue to see strong double-digit growth in new business values. With a view to improving new business margins, insurers have been proactively refining their product strategies, typically focusing more on protection business, while also improving the productivity levels of their distribution channels. Equity markets are on the rise and bond yields increased in most markets, providing favourable economic conditions for companies to grow
Partner Content
A longer claims process and increased cost were some of the challenges faced by insurers.

Tropical cyclones have always been a significant peril in Asia and a major focus for risk assessment in the region.