Milliman: 2016 Embedded Value Results: Asia (excl. Japan)
August 10 2017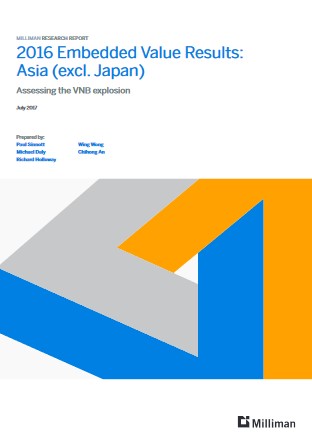 Welcome and thank you for taking the time to read the latest edition of Milliman's Asian embedded value (EV) report.
Asia's economic growth remained strong in 2016, helping several emerging markets post double-digit percentage rises in life insurance premiums for the year. Growth in EV was also positive across almost all markets. Low interest rates continue to affect margins in some countries, however, although recent interest rate increases in the US are likely to lead to improvements in the future if the widely expected rate rise cycle continues to unfold.
Our report compares and contrasts the various different approaches taken to EV reporting across Asian markets and insurers. A further report containing commentary on the reported mid-year 2017 EV results, as well as any 2016 year-end reporting not disclosed in time for this report, will be produced later in the year. We have also published a report covering the 2016 reported EV results of European companies.