Marsh: Political Risk Map 2016
May 14 2016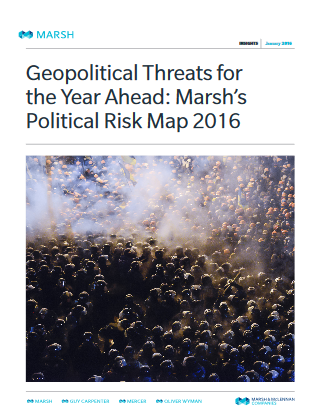 In the last decade, multinational organizations have undertaken unprecedented international expansion, leaving them exposed to global credit and political risks like never before. And those risks — including terrorism and political violence, armed conflicts, increasingly powerful anti-establishment political movements, and persistently low commodity prices — continue to grow. Multinational risk professionals must now be prepared for virtually any type of political or economic risk threat in both developed and emerging markets.
Drawing on data and insight from BMI Research, a leading source of independent political, macroeconomic, financial, and industry risk analysis, Marsh's Political Risk Map 2016 presents a global view of issues facing multinational organizations and investors. Accounting for in-country political, economic, and operational risks, the map presents overall country risk scores for more than 200 countries and territories, helping businesses and investors make smarter decisions about where and how to deploy financial resources — including risk capital — globally in 2016 and beyond.
The following are key findings from BMI and Marsh regarding the major political risks that organizations and investors will face in the coming year. We also invite you to explore an interactive version of our Political Risk Map 2016 on marsh.com.
Partner Content
Digital transformation is at the heart of bridging protection gap and removing bottlenecks for farm cover in China and India.

Underwriter Victoria Soo and Senior Risk Analyst Daryl Soh on how credit insurance helps finance infrastructure projects and other ESG investments.