Swiss Re: M&A in insurance: start of a new wave?
May 21 2015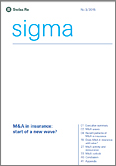 Mergers and acquisitions (M&A) tend to come in waves. After declining sharply in the wake of the financial crisis, overall M&A activity in the insurance sector has been relatively low in recent years and has only just started to increase. Surveys also suggest sentiment towards M&A is turning as insurers look for ways to deploy excess capital, boost or diversify revenue growth, build scale and ultimately bolster profitability in the face of ongoing economic headwinds.
Swiss Re
Partner Content
The consultant is exploring potential acquisitions in Australia and New Zealand, and expanding its footprint in South-East Asia, Korea and Japan.

Managing these daunting risks will require a multi-stakeholder approach to risk identification, financing and mitigation.

Electric ferries are increasing in popularity but there is plenty of work ahead to move away from ships using heavy diesel oil.