Guy Carpenter: Kumamoto Earthquake: briefing and analysis
May 12 2016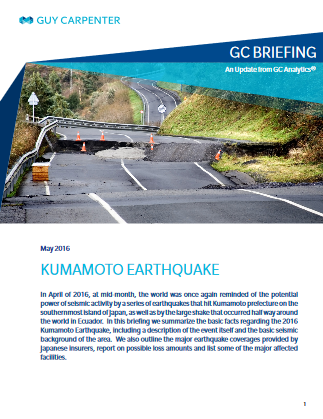 Industry estimates on the insured losses for property risks stemming from the Kumamoto Earthquake range from USD1.7 billion to USD2.9 billion. According to the Japan Fire and Disaster Management Agency (FDMA), the events also caused damage to more than 2,000 buildings, resulted in 65 fatalities and 332 severe injuries.
Edward Fenton, Regional Manager, Japan, at Guy Carpenter commented that, "Japan is known for its earthquake potential. The risks associated with this peril are dealt with by a combination of the private sector and, similar to many other earthquake-prone countries, the government, which plays an important and active role in insuring the risks associated with these catastrophes."
Partner Content
A longer claims process and increased cost were some of the challenges faced by insurers.

Tropical cyclones have always been a significant peril in Asia and a major focus for risk assessment in the region.