KPMG: Demystifying the public private partnership paradigm
July 28 2015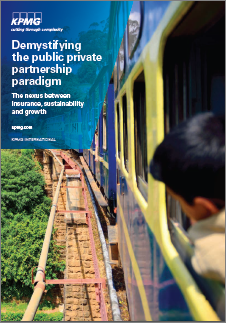 With the insurance industry continuing to play a more active role in helping the world respond to seemingly intractable global challenges such as climate change, disaster resilience and economic sustainability, insurers are cultivating new and innovative partnership agreements – including Public Private Partnership (PPP) models – with non-traditional players and organisations to help close the protection gap.
For most, the development of these types of partnerships and initiatives will require new ways of thinking. New business models, new ideas, new relationships and new technologies will all be required to create strong and sustainable PPPs; insurers will need to break new ground if they hope to have a sustainable impact in this area.
As this report illustrates, there are clear and measurable upsides to helping reduce global risk and enhancing resilience. Indeed, PPPs are not about funneling charity dollars to development projects; it is about creating win-win business models with new partners in order to drive future growth, reduce risk and inspire innovation.
The insurance industry has a fundamental and central role to play in the global response to issues such as climate change, natural catastrophes, financial inclusion and sustainability. But, for solid progress to be made, policymakers, intermediaries, development organisations and regulators will need to update their understanding of the role that insurers can (and should) play.