EY – Global insurance M&A themes 2018
April 2 2018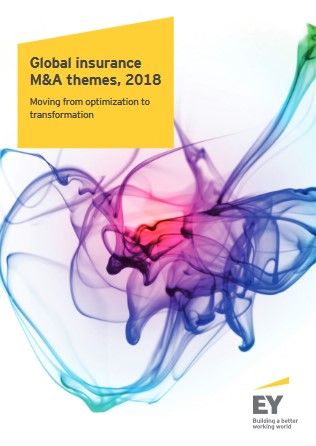 In our 2016 review of insurance M&A deal trends we highlighted how transformation in the sector was fuelling deal activity. Then in 2017 we reflected on how global uncertainty was acting as a brake on strategic M&A. This year we assess how these two opposing forces affected M&A activity in 2017, and the outlook for 2018 and beyond.
2017 was not a stellar year for insurance M&A in terms of the overall number or value of deals — with both being broadly comparable to 2016.
However, deal activity in 2017 contained signs of the M&A trends that we expect to see accelerate as more insurers seek to transform, using business acquisitions or disposals as elements of that transformation.
The long term nature of many insurance risk types means that a process of rationalizing legacy commitments is a critical early step prior to more forward-looking transformation. During 2017 we saw many examples of such "portfolio optimization" or simplification of existing legacy businesses.
Moving beyond such activity, we have seen continuing investment into new technologies (whether via investment into "Insurtech" or the acquisition of key capabilities from incumbents), and we have also seen early signs of "convergence," with technology oriented businesses starting to invest into insurance.
In this publication we explore a number of these trends, moving on to look ahead to the potential development of new forms of M&A as insurers find ways to operate in the context of innovative and complex, technologically enabled "digital ecosystems."
We also explore how the role of M&A teams, and the range of skills required, is evolving as insurers move into emerging business models and innovative types of transactions.
We hope that you find this document informative and we would welcome the opportunity to discuss our perspectives with you.
Partner Content
The year 2021 will be critical for insurers to ensure they are ready for new regulations set to arrive in 2023.