Greenwich Associates: ETFs Take Root in Asian Institutional Portfolios
March 10 2016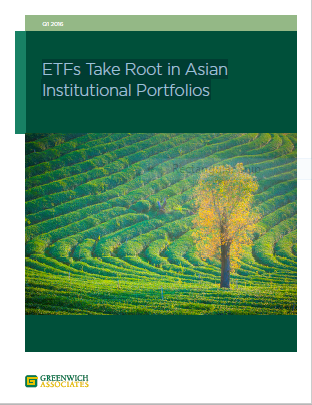 Exchange-traded funds (ETFs) have established themselves as important components of Asian institutional investment portfolios, and the results of Greenwich Associates debut Asian Exchange-Traded Funds Study show the potential for further growth.
Although overall investment in ETFs remains modest relative to total assets held by Asian institutions, the funds are being adopted for a wide variety of strategic and tactical tasks. The two most common applications for ETFs are strategic in nature: obtaining core investment exposures and international diversification within portfolios. These strategic uses of ETFs by Asian institutions are being adopted at a much faster pace than they were in North America and Europe.
ETFs in Asia first gained traction in institutional equity portfolios. Ninety-four percent of ETF users in the study employ ETFs in equity portfolios, and one-third use ETFs in fixed income. In the short-term, ETF growth will be driven by equities. Nearly 45% of institutional ETF users participating in the 2015 Asian ETF Study expect to increase equity ETF allocations in the coming year, and more than half of these institutions plan to boost allocations by 10% or more.