Marsh: Benchmarking the Asian Energy Industry
August 25 2016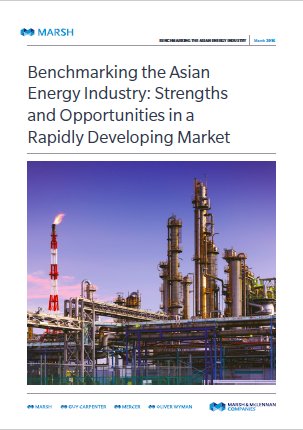 In 2013, Marsh issued its first benchmarking study gauging the comparative risk quality of the Middle Eastern oil, gas, and petrochemical facilities relative to more than 500 similar facilities worldwide, as present in Marsh's database. We are now delighted to extend this analysis to Asian onshore oil, gas, and petrochemical facilities. The results of which have been used in this report to contextualize risk quality in Asia and explore regional trends, thereby helping clients understand current trends and provide a comparative view of the risk quality of their assets and operations.
Marsh's risk ranking system provides an absolute measure of risk quality when compared against a defined set of criteria, while benchmarking
determines a client's (or even a region's or industry's) position relative to its peers. These proprietary systems have been developed and enhanced over the past 25 years and are based on the views of both Marsh's risk  engineers and those of the underwriting market. Marsh developed its benchmarking tool to provide a proactive risk-improvement approach based on current standards and best practice. For many of our clients, Marsh's benchmarking reports have proven to be a catalyst for change.
Overall benchmarking scores reveal the risk quality of Asia's onshore energy portfolio to be in the lower-middle quartile relative to its global peer group across a broad spectrum of risk-quality features. In terms of hardware, Asia lags behind its global peer group. This is partly due to the inherent natural catastrophe (NATCAT) exposures in the region and the limited suitable land available for energy production sites, which often require a very large "footprint."
Partner Content
Digital transformation is at the heart of bridging protection gap and removing bottlenecks for farm cover in China and India.

Underwriter Victoria Soo and Senior Risk Analyst Daryl Soh on how credit insurance helps finance infrastructure projects and other ESG investments.