Aon Risk Solutions: Outlook for the Solar Insurance Market
October 26 2015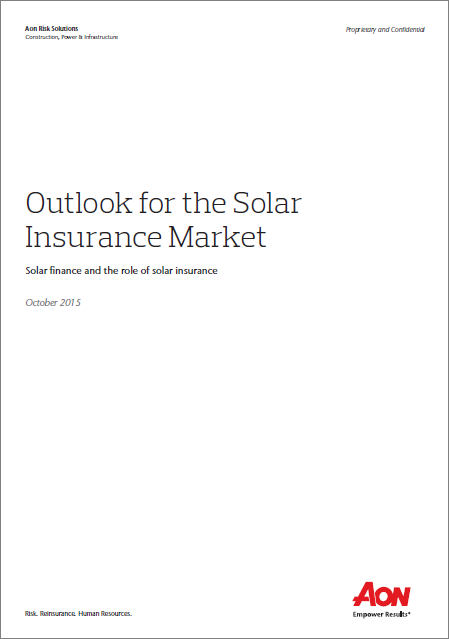 Bloomberg has recently reported that new funds for wind, solar, biofuels and other low-carbon energy technologies gained 16 percent year on year to USD 310 billion in 2014. Investment in solar projects rose 25 percent to USD 149.6 billion in 2014, its highest share of the total investment ever.
Growing awareness of the impact of air pollution and climate change will likely drive greater investment into renewable energy generally, and specifically, into the solar industry. Aon believes a deeper understanding of applicable financial risk management instruments will support investment into and development of this important renewable energy source.
In order to get an in-depth understanding of solar financing and the solar insurance market, Aon Asia Construction, Power & Infrastructure (CP&I) specialty team has undertaken discussions with more than 40 stakeholders including insurers, lenders, solar manufacturers, developers, and technical consultants in China, Japan, India, Europe, and the US. In addition, Aon has engaged external legal counsel to conduct legal review on policy wordings of major solar insurance products, including performance warranty insurance for solar Original Equipment Manufacturers (OEMs) and reduced yield cover for solar developers.
This white paper provides analysis on the global solar market and solar insurance market. We hope this perspective provides fresh insight into this important subject for stakehokders in the solar financing and development value chain. If you have any questions or wish to discuss the solar insurance further, please contact your Aon representatives or contact me at [email protected].
Xia Li
Associate Director, Construction, Power & Infrastructure
Specialty Broking, Asia
Aon Risk Solutions