Aon Risk Solutions: Global Risk Management Survey 2015
May 10 2015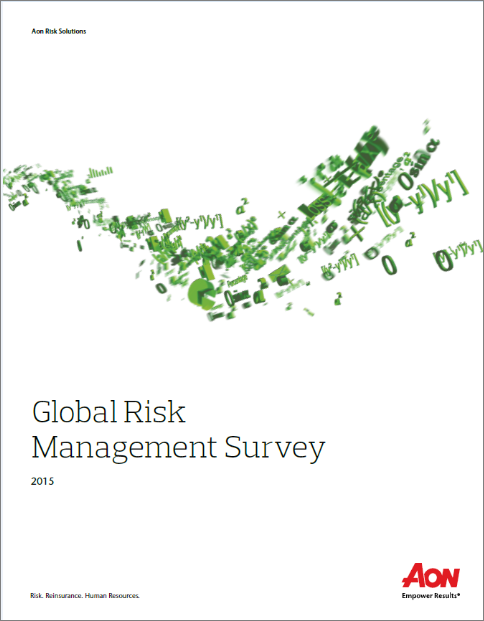 Our 2015 Global Risk Management survey, compiled from responses from over 1,400 risk management professionals in 60 countries, shows companies grappling with new risks but differing on how they rank and how best to address them. Threats to companies' reputations and cyber risk rank high among business leaders' top risk concerns, while economic and regulatory risks along with increased competition and the inability to retain or recruit needed talent continue to rank high.
The survey results offer answers to many key risk management questions including:
How do your risk concerns compare to those of your peers worldwide?
What's driving increased or decreased concern over certain exposures?
How do some risk concerns vary by region or industry?
Of particular concern from a risk management perspective is the number of exposures on this year's list that are not traditional insurable risks, showing the need for organizations to skillfully evaluate and address both existing and emerging exposures.
Highlights from the findings:
Reputation damage, the top-ranked risk in this year's survey, can result from a number of factors—no surprise then that it's correlated to several other risks on this year's list.
Regulatory/legislative change ranked number 3 this year and contributed to a significant move up the list for Directors' & Officers' risk.
Failure to attract and retain talent ranked number 5, though respondents in some regions ranked it even higher.
Cyber risk entered the top 10 at number 9, ranking higher in North America. Cyberattacks can damage companies in a number of ways, linking the threat to other risks on the list.
Several risks on this year's list are potential causes or consequences of the number 10-ranked risk: property damage.
Aon Risk Solutions
For full insights from this year's survey read the report and view the interactive video here.