Aon Risk Solutions: 2016 Political Risk Map
March 14 2016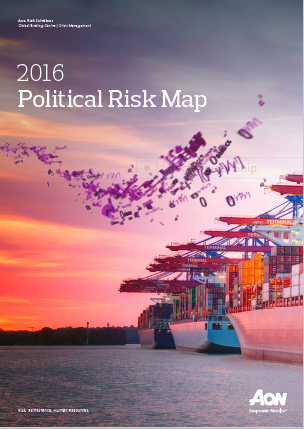 Emerging markets continue to attract businesses seeking alternative areas of growth. In such economies, assets, contracts and loans can be adversely affected by government action or inaction.
In today's geopolitical and economic environment, organisations need to have comprehensive high level overviews of their exposure to emerging market political risk. It is important to plan ahead and to form strategies to be relevant to country risk types and degrees.
Unrivalled access to more than 19 years of data
The Interactive Map and its analytical tools allow users to plot trends, measure exposures and review the potential risks they may face as they look to invest, grow and diversify.
Complementing the print version, the Interactive Political Risk Map produces high level country overviews and tailored comparisons of country ratings and changes in risk. The data is updated quarterly and where appropriate at the time of material political risk events.
Aon's Political Risk Map is produced in partnership with Roubini Global Economics (RGE) an independent, global research firm founded in 2004 by renowned economist Nouriel Roubini. The Roubini Global Economics Country Insights risk scoring model is adapted from the Aon Political Risk Icons.
Country Insights utilizes 168 different data sets drawn from recognized data sources – such as the IMF, the World Bank and the United Nations.