Aon Risk Solutions: 2015 Asia Pacific (APAC) Cyber Impact Report
August 26 2015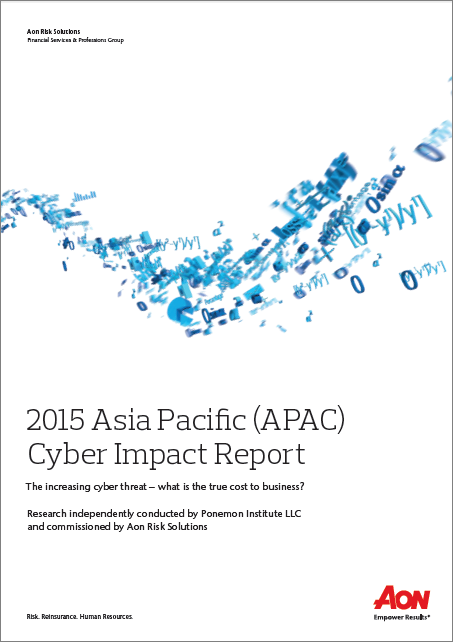 In an era of global connectivity, online information and systems are playing an increasingly central role in business. According to data from Cisco, worldwide internet-connected devices will reach 50 billion by 2020, and with 15 billion devices already in 2015
it is apparent that an increasing numbers of companies, systems and information are working online.
As the digital revolution gathers pace however, so too do the associated risks. The past five years have witnessed an unprecedented number of high profile data breaches involving businesses across regions and industries with personal records and financial information stolen and sold on the black market or simply posted on the internet for illegal or immoral usage by the public at large. Further evidence of the growth in cyber risk is the +50 percent Compound Annual Growth Rate of Aon cyber insurance cover in the five years to 2014.
The financial consequences of a cyber breach can be wide-ranging from business interruption, increased operating costs, third party liability, supply chain disruption and information asset theft. Attacks have the potential to affect virtually any industry which is digitally reliant, from manufacturing through to retail, infrastructure, healthcare, entertainment, tech or telco – the issue is not confined to the financial services sector.
It is against this backdrop that, in March 2015, Aon commissioned the Ponemon Institute, a leading research firm on privacy, data protection and information security, to conduct a groundbreaking global cyber risk study (including 528 interviews with Asia Pacific (APAC) business leaders).