Allianz: Safety and Shipping Review 2016
March 23 2016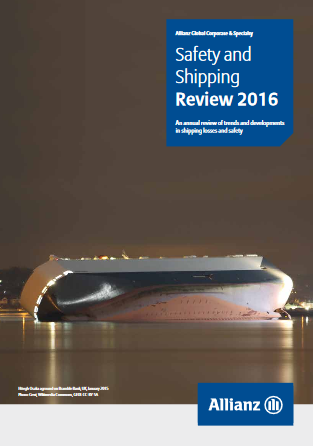 International shipping transports approximately 80% of global trade by volume and over 70% of global trade by value. The safety of vessels is critical to the global economy. The maritime industry saw the number of total losses remain stable during 2015, declining slightly to 85; the lowest total for a decade and the second year in a row annual losses fell below 100.
Losses declined 3% compared with 2014 (88). The 2015accident year represents a significant improvement on the 10-year loss average (123). Large shipping losses have declined by 45% over the past decade, driven by an increasingly robust safety environment and self regulation. However, regional disparities remain.
More than a quarter of all losses in 2015 (22) occurred in the South China, Indochina, Indonesia and Philippines maritime region, which has been the top loss hotspot for the past decade. Losses are up year-on year and are double those of the next highest loss region, East Mediterranean and Black Sea (11).
Cargo (36) and fishing (16) vessels accounted for over 60% of ships lost with cargo losses increasing for the first time in three years. Foundered (sunk/submerged) is the most common cause of loss, often driven by bad weather, accounting for almost 75% (63), up 25% year-on-year.
In total, there were 2,687 reported shipping casualties (incidents) during 2015, down 4% year-on-year. The East Mediterranean and Black Sea region (484) remains the global hotspot. Together, with the British Isles, N.Sea, Eng. Channel, Bay of Biscay, it accounts for a third of all incidents over the past decade. Thursday is the most frequent day for shipping incidents with Saturday the safest.