Allianz Risk Barometer: Top Business Risks for 2019
January 15 2019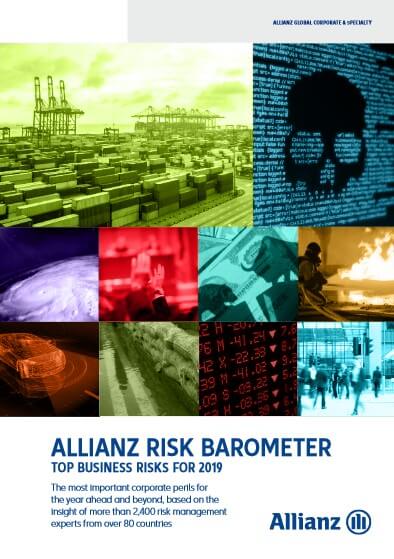 Allianz Risk Barometer Methodology
The eighth Allianz Risk Barometer is the biggest yet incorporating the views of a record 2,415 respondents from 86 countries. The annual corporate risk survey was conducted among Allianz customers (global businesses), brokers and industry trade organizations. It also surveyed risk consultants, underwriters, senior managers and claims experts in the corporate insurance segment of both Allianz Global Corporate & Specialty (AGCS) and other Allianz entities.
Respondents were questioned during October and November 2018. The survey focused on large and small- to mid-sized enterprises. Respondents were asked to select industries about which they were particularly knowledgeable and name up to three risks they believed to be of the most importance. Applicable respondents could provide answers for up to two industries meaning there was a total of 2,882 survey responses from 2,415 respondents.
Most answers were for large enterprises (>€500mn annual revenue) [1,445 responses 50%]. Mid-sized enterprises (€250mn to €500mn revenue) contributed 619 responses (21%), while small enterprises (<€250mn revenue) produced 818 responses (28%). Risk experts from 22 industry sectors were featured.
Ranking changes in the Allianz Risk Barometer are determined by positions year-on-year not percentages.
Partner Content
The year 2021 will be critical for insurers to ensure they are ready for new regulations set to arrive in 2023.