Allianz Risk Barometer: Top Business Risks 2017
January 20 2017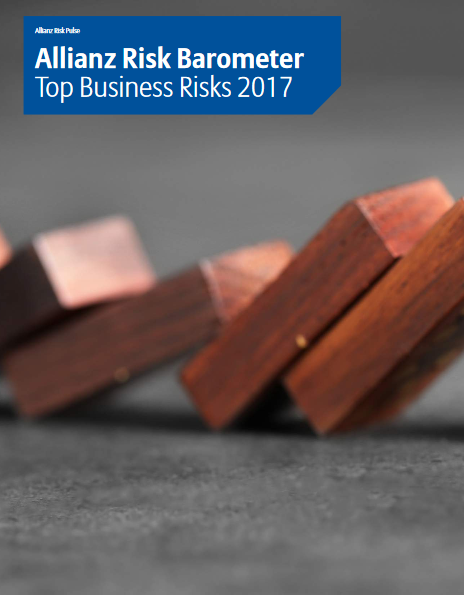 Companies worldwide are bracing themselves for a year of increased uncertainty, driven by growing concerns over political, legal and regulatory developments around the globe. Digital dilemmas such as the impact of new technologies on the risk profile of industries and cyber incidents are a rising concern as well, while natural catastrophe activity remains high on the agenda. But what troubles businesses most are actual or anticipated losses from a business interruption.
Business interruption is the top risk for the fifth year in succession, but new triggers continue to emerge. Perils such as natural catastrophes and fires are the causes businesses fear most, but the nature of the risk is shifting increasingly towards non-damage events. A cyber incident or the indirect impact of an act of terrorism or political violence are events that can result in large losses without causing physical damage. More of these types of events are expected to occur in future.
Companies will need to invest more resources into better monitoring of politics and policy-making around the world in order to anticipate, and adapt to, any sudden changes of rules that could impact business models and markets. This comes amid fears of increasing protectionism and anti-globalization, which could produce a business interruption threat of a different kind.