Allianz: Megacities
November 10 2016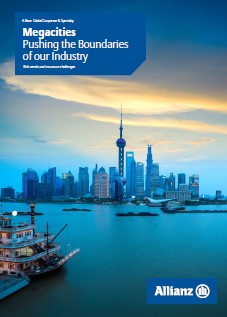 A recent Allianz publication: The megacity state: The world's biggest cities shaping our future received widespread recognition. The document gives an insight into how human livelihood will evolve over the next 15 years and touches upon the challenges in risk and insurance, which society will face. In accordance with the United Nations (UN), Allianz defines megacities as urban areas exceeding 10 million inhabitants and describes them as highly interconnected, dynamic and vibrant centers, which will over time contribute higher income and living standards for their citizens.
The growth number for megacities is impressive. A 2006 UN working paper documented that there were only two megacities in 1950, Tokyo and New York City (NYC). The number increased marginally in the following quarter century to three in 1975, Tokyo, NYC and Mexico City. In contrast, the next 25 years saw a dramatic growth to 18 megacities in 2000. Since then, the digital age has reinforced the pull factor exerted by the megacity and makes it increasingly difficult for demographic experts and governments to extrapolate, forecast and steer the growth. In this respect, the above mentioned 2006 UN working paper predicted 22 megacities in 2015, while in reality the last year recorded 29 megacities – a good 30% above the UN forecast.
Megacities in their enormous size accumulate impressive physical, human and intellectual resources, they increase economies of scale and lower production costs.