Allianz Global Corporate & Specialty Global Claims Review 2015: Business Interruption In Focus
December 15 2015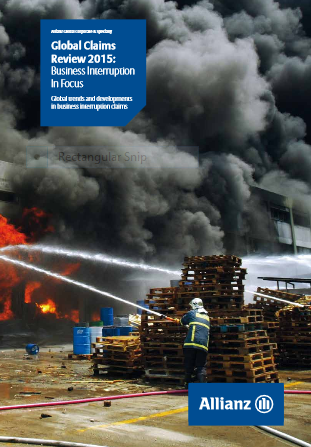 Scope of the Report
This report focuses on global developments in business interruption-related insurance claims over the period 2010 to 2014, identifying the top causes of losses and other trends across a number of different business sectors, regions and countries. It also examines a number of emerging risks that will impact global businesses and the insurance claims landscape in future.
The findings detailed in this report are based on the analysis of 1,807 business interruption-related insurance claims from 68 countries (with a total value of more than €3bn) recorded for the accident years 2010-2014, each with a total value after deductible of €20,000 or higher. All claims figures quoted are 100% (not only the Allianz Global Corporate & Specialty share but including coinsurers' shares) and excluded deductible (i.e they represent the full payment made).
Of the 1,807 claims analyzed, 149 claims relate to "very large events" (see page 7) which have been treated separately due to their high impact on the database. The remaining 1,658 business interruption claims are herein referred to as "base claims".
Allianz Global Corporate & Specialty business scope
While the losses analyzed are not representative of the industry as a whole, they give a strong indication of the major business interruption risks which dominate industrial insurance. Allianz Global Corporate & Specialty business scope Allianz Global Corporate & Specialty (AGCS) is the Allianz Group's dedicated carrier for corporate and specialty insurance business. AGCS provides insurance and risk consultancy across the whole spectrum of specialty, alternative risk transfer and corporate business.
Insurance product lines covered – herein referred to as lines of business – include:
Aviation (including space)
Energy
Engineering
Entertainment
Financial Lines (including directors' and officers' [D&O])
Liability
Marine
Mid-Corporate
Property
In addition AGCS also provides alternative risk transfer coverage through its subsidiary, Allianz Risk Transfer AG.
The claims analyzed in this report cover all these lines of business, except alternative risk transfer business.