Milliman – 2017 Embedded value results: Asia (ex-Japan)
September 19 2018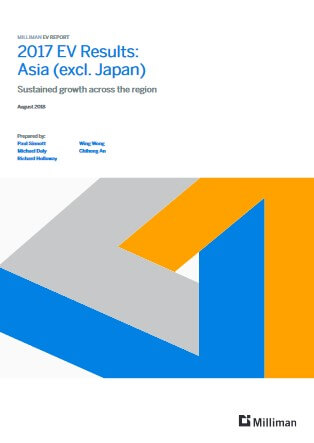 Asia's economic growth remained strong in 2017, helping several of the region's emerging markets post double-digit percentage rises in life insurance gross written premiums for the year. However, the overall region's life insurance premium income fell slightly, mainly because of a reduction in the sale of short-medium term universal life business in China due to changes in regulations. Growth in EV was a positive across almost all markets. New business margins continued to increase in most markets, especially from those insurers that have successfully reoriented their product strategies from savings to protection business. EV growth across the region ranged from 10% to 28%.
Our report compares and contrasts the various different approached taken to EV reporting across Asian markets and insurers. A further report containing commentary on the reported mid-year 2018 EV results, as well as any 2017 year-end reporting not disclosed in time for this report, will be produced later in the year. A report on shareholder value reporting in Europe will be available in September 2018.
Once again we would appreciate any feedback you have on our report content and format.
Best regards,
Paul Sinnott
Michael Daly
Richard Holloway
Wing Wong
Chihong An
Partner Content
The year 2021 will be critical for insurers to ensure they are ready for new regulations set to arrive in 2023.