Breuil eyes sustainable Asia footprint amid uncertainty
May 4 2020 by Andrew Tjaardstra and Yvonne Lau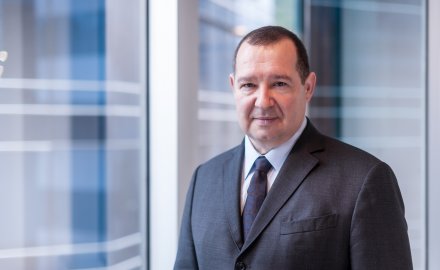 InsuranceAsia News met with Hong Kong-based Marc Breuil, regional president Asia Middle East – Berkshire Hathaway Specialty Insurance (BHSI) at the firm's regional hub in Quarry Bay.
BHSI was founded in the US in April 2013 and began to expand internationally the year after. Starting with a blank piece of paper, Breuil (pictured) established the Asia Middle East division of the insurer in 2014 after previously being president and chief executive at AIG Hong Kong; Breuil had worked at the US company for over 20 years in both Europe and Asia.
Breuil explains: "I was renting an office with one teammate and my BHSI t-shirt. If you ask me now, I feel good about what we have done globally and regionally but mostly I feel privileged to have been given the opportunity to contribute to building this platform."
He now oversees more than 120 people with approximately 40 in Hong Kong, 40 in Singapore and 20 in Dubai. BHSI additionally holds licences in Macau and Labuan including an office in Kuala Lumpur, Malaysia. BHSI writes both direct insurance and reinsurance in Hong Kong and Singapore, which were first established as dual regional hubs in 2014. The Dubai office, the most recent addition to the Asia Middle East division, opened in January 2018.
"We expect to see greater underwriting discipline in the region – and consequently to see further rate increases throughout 2020 and into next year."

Across the globe, BHSI is now present in 30 offices in 14 countries across the world, led by Boston-based chief executive and president Peter Eastwood. Regional presidents also include Chris Colahan who moved from Sydney to London to lead the European and UK operations and Mark Lingafelter, who replaced Colahan in Sydney to lead the Australasia operations.
Rates and growth
2019 was another solid year for BHSI in the region – especially when placed in the context of the global economy.
Having established a strong customer base over the last five years – including providing workers' compensation cover for some major construction projects in Hong Kong – the firm benefited last year from both new business wins and an upturn in rates.
Marsh's Global Insurance Pricing Index registered that property pricing in Q4 2019 in Asia increased 7.5% year-over-year, compared with 6.5% in Q3, while financial and professional liability pricing increased 4.6%, down from 5.3% in Q3. In contrast, overall casualty rates remained flat – rising 0.1%.
Breuil commented: "2019 was a year of fast growth for us – even though Asia is traditionally the place where rates are the last to harden. The year started with "business as usual" but the second half of the year saw rates starting to firm up in energy, marine, construction, D&O, liability and catastrophe impacted programmes."
The existing business climate indicates this trend is expected to continue for the foreseeable future.
"We expect to see greater underwriting discipline in the region – and consequently to see further rate increases throughout 2020 and into next year," Breuil explained. "At BHSI, we aim to take a science-based approach to underwriting – particularly with regards to catastrophe exposure, which is increasing in severity as the result of climate change and urbanisation."
He added: "With our catastrophe engineering and analytics team, we are gathering and analysing data to develop our own view of natural catastrophe perils around the world."
Another aim is to further develop BHSI's transactional and tax liability practice and group accident and health practices. It is also looking to continue to target cat programmes focusing on earthquake risks across the region and in particular, in Japan.
"There is likely to be long lasting economic pain with broad-based destruction of value, increased unemployment and reduced payrolls."
In December 2018 the firm became the first insurer in Hong Kong to provide employees' compensation (EC) terrorism coverage to customers directly after withdrawing from Hong Kong's centralised EC terrorism pool. Breuil said that BHSI offers a better cover than the pool and that its customers no longer have to pay the 3% charge to the Hong Kong government to fund the pool.
Covid-19 and market outlook
Clearly the market environment has changed significantly since the outbreak of Covid-19 which has had an unprecedented impact on the global economy.
Breuil commented: "The industry is likely to see a significant impact on the specialty insurance segment. First, there will be some losses for business interruption where explicit grants of coverage were made for pandemic and communicable diseases, and in the event cancellation space."
"Insurers involved in credit related lines of business will see losses tied to solvency issues," Breuil continued. "Additionally, the non-life sector industry will face premium payment issues particularly in the SME space and will be looking at considerably diminished investment returns, as yields are going through the floor."
However, he gave this stark warning: "There is likely to be long lasting economic pain with broad-based destruction of value, increased unemployment and reduced payrolls."
Analysts at Morgan Stanley have said that although Berkshire Hathaway's (re)insurance arm could be exposed to losses from the impacts of the global Covid-19 pandemic in several business lines – the losses should be manageable for the overall group.
BHSI is part of the Berkshire Hathaway Primary Group – a division which saw a US$33 million underwriting loss in Q1 2020 (Q1 2019: US$30 million underwriting loss); last year the division bounced back to an underwriting profit for the full year of US$383 million.
In addition to the effects of the virus outbreak, the market is facing increased regulatory scrutiny in particular in Hong Kong where intermediaries are now regulated by the SAR's Insurance Authority.
It is also witnessing a continued wave of consolidation among brokers which may eventually alter the market dynamics. Having seen the merger of JLT with Marsh, the market will be watching closely how the Aon and Willis Towers Watson deal develops – which is likely to have a significant impact on Asia.
Sustainability and the future
Looking forward Breuil is confident despite all the prevailing headwinds.
He vowed the firm would continue to hire and grow in the region: "BHSI has a sustainable business model and we are building a forever business. In the short term, we plan to continue to hire and add between 10% and 15% more teammates over the next two years – these plans haven't changed."
He signed off: "We will continue to build a sustainable footprint in this incredibly vast and diverse region even as the non-life industry enters a period of unprecedented uncertainty."