Zurich and Allianz reveal Covid-19 hits
May 15 2020 by Andrew Tjaardstra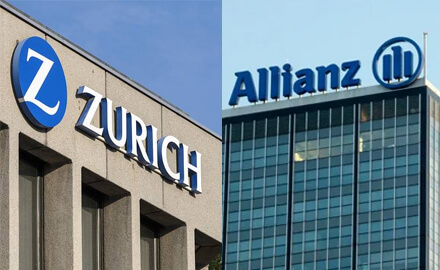 Zurich believes that total global claims from the Covid-19 pandemic will be around US$750 million this financial year.
The Swiss giant has already booked US$280 million of claims for Q1 2020.
George Quinn, Zurich's chief financial officer, commented: "The impact of claims related to the Covid-19 outbreak and the sharp falls in financial markets in the latter part of the first quarter are expected to remain a 2020 earnings event."
Quinn added: "Group solvency remains strong and together with the diversity of our business and our conservative balance sheet, I am confident that the group is well placed to manage the current challenges."
Meanwhile European rival Allianz has said the pandemic could hit profits by €1 billion (US$1.08 billion) this financial year.
The global insurer posted a 28.9% fall in Q1 2020 after tax profit to €1.4 billion (US$1.5 billion) in the first quarter compared to the same period last year when it reported a net profit of €2 billion.
Allianz Global Corporate and Specialty fell to a €141 million (US$152.4 million) operating loss for Q1 2020.
Allianz has withdrawn its 2020 operating profit outlook of €12 billion (US$13 billion) due to uncertainties around Covid-19.
However, on the plus side, the German firm did report internal revenue growth of 3.7%, and attributed this boost mainly to its life and health business.
Both firms have significant operations in Asia-Pacific which could help them recover from the crisis in the second half of 2020.
Countries including Australia, China, Hong Kong SAR, New Zealand, South Korea and Taiwan are opening up their economies after seemingly overcoming the worst of Covid-19.
The International Monetary Fund is expecting a 2021 economic rebound – assuming the pandemic fizzles out in the second half of this year – of 5.8% global GDP with the likes of China at 9.2% growth (2020: +1.2%) and India at 7.4% growth (2020: +1.9%) leading the way.