Will Thailand's motor market turnaround in 2020?
February 5 2020 by Andrew Tjaardstra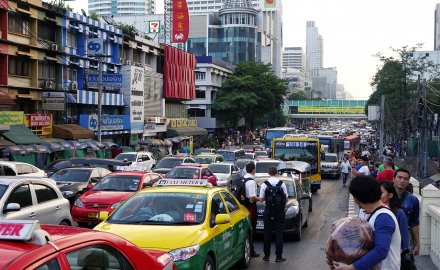 Despite a slowdown in the economy, with over 35 million vehicles on the roads, the Thai motor market is still very much a dominant force for the country's P&C players.
In the first nine months of 2019, according to AM Best, motor premiums grew by 5.4% and were a significant driver of the P&C sector's overall expansion of 4.7%.
Motor makes up a significant chunk of Thailand's P&C market which is the second largest in South-East Asia – with Bt232 billion (US$7.5 billion) of gross written premiums.
Fierce competition
Despite the potential premiums to be gained, motor is not nearly as lucrative as it once was with AM Best noting insurers to improve pricing and operational sophistication across all P&C lines.
Statistics from the Office of Insurance Commission (OIC) show a deterioration in motor underwriting results, which has declined to an estimated underwriting loss, according to an AM Best calculation, of Bt1.6 billion (US$51.7 million) in 2018 from a profit of Bt2.6 billion (US$84.1 million) in 2013.
"We have seen further rate hardening in January following the trend of 2019." Nicolas Faquet, Roojai
The Thai General Insurance Association (TGIA) reported that the combined operating ratio (COR) for motor stood at 106.7% for 36 companies in 2018. The contrasts with the COR for non-motor P&C of 81.5% and from data available so far – the picture didn't improve much in 2019.
One of the reasons has been the high above annual increases in repair costs, especially from official car manufacturer garages. In addition, as competition has intensified, marketing costs have also increased through necessity.
As a result, there has been a squeezing out of some players from the market with the likes of JP Insurance and others looking to cut back on growth.
Nicolas Faquet, chief executive of online player Roojai, told InsuranceAsia News (IAN): "There is a reduction of the number of players participating in the motor market. A few mid-size insurers are giving up the line of business releasing some competitive pressure."
Rate hardening
On the plus side the motor rates are in the middle of a long overdue hardening with the likes of market leader Virayah taking a disciplined pricing approach.
Faquet commented: "We have seen further rate hardening in January (2020) following the trend of 2019. We expect this trend to continue for most of 2020 driven by high inflation of the repair costs…which put further pressure on a thin underwriting margin."
The likes of Tokio Marine, which has just completed the merger of major motor player Safety Insurance, and owns online motor offering Drivedee will be looking to capitalise as it targets market expansion. FWD has also entered through the acquisition of Bangkok-headquartered Siam City Insurance.
In addition to improving rates there is further good news from the regulator.
The OIC is in the process of increasing compulsory and voluntary car cover from Bt600,000 (US$19,280) to Bt1 million (US$32,130) – a move that will be welcome across the market.
Outlook
Despite the optimism for improvement, there is a lower number of new car sales expected in 2020 compared to 2019 which will dampen the overall market growth expected from higher premium per policy.
There are also higher carbon emission standards being introduced for motorbikes which will cause some difficulty in this market.
Expect rates to go up but competition to remain fierce and a turnaround in underwriting profits to happen gradually over the next two to three years.