What to expect in 2019
January 4 2019 by Nick Ferguson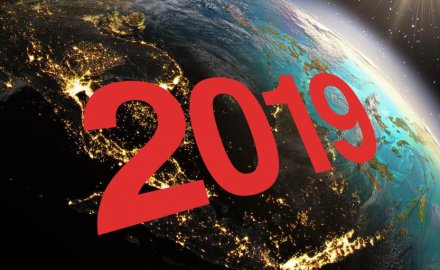 Despite a positive long-term outlook, Asia's insurance industry will be shaped in 2019 by global issues. Trade wars, underperforming investments, weak local currencies, oil price fluctuations and political uncertainty in some markets will all weigh on insurance returns.
The US economy is expected to see growth slow to 2.2% in 2019, down from an expected 2.9% in 2018, while the eurozone is forecast to slow to 1.5% from 1.9% and Japan to 0.6% from 1%. While this still represents relatively solid global growth, "the best is probably over", according to Jerome Jean Haegeli, chief economist at Swiss Re.
"Cyclical momentum is positive but we expect real GDP to slow by about 1-2 percentage points in most parts of the world over the next two years," he said. "This also takes into account mounting structural challenges to growth, such as higher debt burdens, reduced savings on account of aging societies, and low productivity."
Economic growth in emerging Asia will continue to outperform, but insurers in the region will need to increase their focus on efficiency and innovation to capitalise on the long-term opportunity available in markets across the region, with solutions ranging from large-scale transformation programmes to the adoption of digital platforms.
Insurers in Asia also have the added complexity of managing relationships with agents and bancassurance partners, so efforts to cut costs should also focus on enhancing these distribution channels and not be an exclusively digital focus, according to Jonathan Zhao, EY Asia-Pacific insurance leader.
"Today's intense margin pressures mean that cost efficiency is more important than ever," he said. "While many insurers across the region are leading the way when it comes to adopting emerging technology and working with insurtechs, we believe it's an imperative for insurers to make the critical decision about what capabilities they should own and manage themselves and what to outsource."
Such investments will be key to determining the future shape of the insurance industry in the region — and perhaps the world. "With the global economic power shift from west to east continuing unabated, China and emerging Asia in particular will be the main source of insurance demand in the coming years," according to Haegeli.
Indeed, Swiss Re projects that the growth rate of insurance premiums in emerging Asia will be more than three times that of the world average over the next two years. Consider for example that China's share of global premiums increased from 0.8% in 2000 to 9.7% in 2017, and is forecast to expand to 16% by 2028.
This growing demand is also driving the creation of new approaches, products and solutions in the region, according to Zhao, which is expected to continue shaping the industry in 2019.
"Markets across Asia-Pacific, in particular China, will continue to influence the future of insurance because of their intense focus on innovation and disruption," he said. "From product design to distribution and technology adoption, insurers in the region continue to experiment to capitalise on the near-term opportunities and drive the industry's long-term growth."
This year may also see a decent amount of M&A activity, continuing the trend from 2018. Baker McKenzie forecasts overall regional deal activity to increase once again in 2019, and the insurance sector will likely reflect this trend.
China has relaxed shareholding rules for foreign insurers, initially to 50% and up to 100% by 2022. Overseas insurers have not made much headway in China so far, but faster licence approvals and more opportunity for ownership control will undoubtedly entice greater levels of investment into the Chinese market.
The outlook for M&A in the region may also get a boost from Malaysia's softer stance on forced foreign divestment, making it a more attractive destination for overseas capital. In Japan, the recent trend of outbound acquisitions is almost certain to continue thanks to low capital returns at home and a shrinking customer base.
A strong US dollar and falling stock prices could also make investment into the region more attractive generally.
However, the weak performance of global stocks is likely to mean less appetite for initial public offerings by insurers this year. However, there are some deals still expected to go ahead. Ping An Healthcare Technology is slated for a US$2 billion IPO in Hong Kong, while Korea's Kyobo Life said in December that its board had approved a US$1 billion listing that will probably take place in the second half of the year.
While 2019 should see significant continuity from last year, the slowdown in global growth, including in Asia, will start to bite later in the year and into 2020 and beyond. The long-term outlook may be positive, but the next few years are expected to bring challenges as China in particular adjusts to much slower growth than it has experienced during the past two decades and the global economy enters a period of weaker growth.