Five years on: Asia's lessons from Nepal's 2015 earthquake
May 11 2020 by Yvonne Lau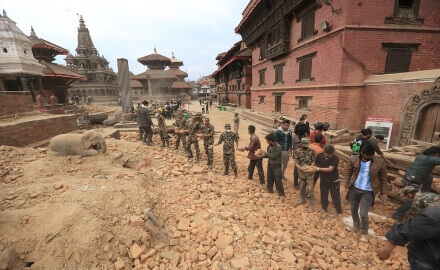 On April 25 2015, an earthquake of M7.8 magnitude rocked Nepal's Kathmandu Valley region. It was the country's strongest in 81 years.
The South Asian Himalayan nation suffered a catastrophic 8,790 deaths and 23,000 injuries. The following month brought aftershocks — meaning two additional earthquakes of M7.3 and M6.7 magnitude. This created even greater physical and economic damage.
However – for those with the knowledge – it was no surprise.
"Neither the location nor the magnitude of the event was a surprise to the scientific community," notes Goran Trendafiloski, head of earthquake model development for EMEA and APAC at Aon's Impact Forecasting Team.
Nepal's shocking post-quake economic losses however, illustrated the need to better understand earthquake risk.
Five years later, what lessons can be learned by Asia's markets when looking at seismic risk?
Preparedness
The 2015 earthquake(s) were devastating for Nepal when it came to lives lost and livelihoods disrupted. Fiscally, it was extraordinarily costly.
"(Re)insurers must have due consideration on such secondary perils to ensure proper risk management and transfer." Wilfrid Goh, Munich Re

Infrastructure damage and destruction translated to US$175 million in insured losses for the country, while wholescale economic losses soared to a whopping US$5.1 billion – totalling almost half of Nepal's GDP.
Though foreign donors pledged around US$3 billion to US$4 billion in reconstruction aid – total rebuilding efforts climbed to a colossal US$8.4 billion.
These immense costs brought to light the need for resilience, in both infrastructure and economy.
Aon's Trendafiloski stressed to InsuranceAsia News (IAN) the importance of sustainable catastrophe management through integrating disaster mitigation plans — particularly for emerging markets. A multi-pillar support strategy should allow for improved economic responses and recovery.
"The actions can range from engineering approaches to the use of sophisticated financial instruments and innovative non-standard risk transfer mechanisms to reduce the earthquake protection gap," he said.
In a country's first line of defense – there should be enforcement of modern seismic codes for construction and repairing and strengthening buildings, infrastructure and land use planning, added Trendafiloski.
Munich Re's Wilfrid Goh, head of property treaty, India and South-East Asia, told IAN that the first step is earthquake-resistant design and construction.
Building construction quality – particularly in developing countries – "is still lacking the level of consideration to withstand 'strong shaking' [from earthquakes]," said Goh. Rapid urbanisation has contributed to the concentration of development in active seismic areas across Asia.
Secondary perils
The costs associated with Nepal's 2015 earthquakes were cumulative – incurred from the primary quake, and severe secondary effects such as landslides, avalanches and ground shaking.
Over the last decade across Asia, earthquakes in Tohoku, Christchurch and Sulawesi have further underscored secondary perils as a major market loss driver.
For instance, the massive tsunami that was triggered by the Tohoku quake in 2011 brought US$300 billion in economic costs, and US$35 billion in insured losses.
Hemant Nagpal, director at modelling firm RMS, told IAN that the post-Tohoku tsunami "contributed a substantial portion of the total damage – highlighting the importance of sub-perils to the quantification of the financial risk of large offshore earthquakes."
Goh added: "(Re)insurers must have due consideration on such secondary perils to ensure proper risk management and transfer." Following Nepal's earthquake, there was an increase in primary insurance rates which allowed insurers to pay out claims quicker with the help of reinsurers, said Trendafiloski.
And part of preparedness and resilience is adapting research and risk models — to the physical environment and market conditions.
Nagpal said that these events furthered more extensive research in and between public and private sectors. For instance, "post-Tohoku research drove scientific advances in earthquake hazard modelling. [Our collaboration] with insurers and scientific agencies [developed] a superior representation of earthquake risk in Japan."
These models were developed utilising damage statistics and claims data and assessed buildings when up against ground shaking, liquefaction, landslides, post-earthquake fires and tsunamis – helping (re)insurers and other stakeholders better understand and manage risks.
PPP
Market players agree that building resilience and closing Asia's protection gap is key.
For developing Asia in particular, this can be fostered through public-private partnerships (PPP). Integrated solutions include catastrophe bonds, parametric solutions and risk pools, says Goh. "The opportunity to create viable solutions [via PPPs] to tackle nat cat risks is much higher in developing markets. Both supply and demand exists, but structuring the right solution, along with budget considerations, is the critical element."
Examples are emerging — such as the Philippines' cat bond issuance via World Bank, the first of its kind to be listed on the Singapore Stock Exchange and APEC's discussions on a regional cat bond market. 
Not having protection in place means further exposing communities and the vulnerable in society – [especially those] who could fall further into poverty as they are the ones who have little to no surplus capacity to absorb such losses, Goh warned.
And that is a risk we should be unwilling to take.