Queensland's flood disaster highlights wide cover gap
March 12 2019 by Andrew Tjaardstra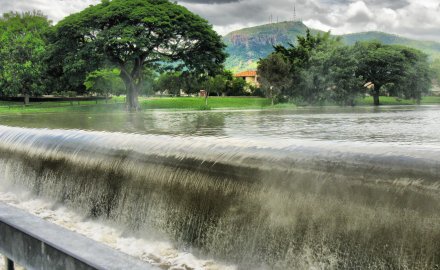 During 10 days of unprecedented rainfall Australia's Northern Queensland experienced widespread flooding from January 26 to February 7, killing at least three people and over 300,000 cattle.
The most significant impact was in the industrial town of Townsville and the surrounding region.
According to the Insurance Council of Australia (ICA) more than 22,204 claims have been filed with payouts totaling A$893 million (US$635 million), while total economic losses — including damage to property, infrastructure and agriculture expected to total at least A$1.7 billion.
The majority of the losses are likely to shared by the country's top three insurers — Insurance Australia Group, Suncorp and QBE — under their multiple brands. Suncorp is Queensland's largest insurer.
However, losses could have been even greater. An early estimate from the ICA suggests 50% of commercial businesses didn't have flood cover and 4% of domestic properties weren't covered. Nationally, 7% of households don't have flood cover.
"Brokers must ensure they offer flood cover to all commercial clients whatever the cost maybe to their clients, this gives their clients the opportunity to take or decline flood cover based on their individual circumstances," said Campbell Fuller, general manager communications at the ICA.
"If they know flood cover is available and they know the cost and they decline to opt in to flood cover they have the knowledge and the opportunity to take alternative measures."
Insurers take different approaches to flood cover in Australia: some make flood cover a compulsory part of taking out a household policy; some include flood as a standard inclusion, but allow the policyholder to remove it, called opt-out flood cover; others cover flooding up to low defined values – for instance, damage of A$15,000 or less; while other insurers will not cover flood under any circumstances.
One option for policyholders is to claim through storm as insurers see rainwater runoff as part of storm cover.
"Most policies include storm cover," said Insurance Council of Australia chief executive Rob Whelan. "Where flood cover was not purchased, it will typically be tested by the insurer through an independent hydrology process. This will determine if the inundation that caused the damage is to be classified as flood water or as storm water."
There was so much rain for so long in northern Queensland. According to the Bureau of Meteorology in and around Townsville, the accumulated totals from consecutive days of heavy rainfall were the city's highest on record since records began in 1888.
The state government will determine the frequency of the event (for example, one in 200 years) after hydrology testing. According to Aon Impact Forecasting the last major flooding disaster of a similar scale was in January 2013 when the remnants of Cyclone Oswald caused significant flooding in Queensland; total insured losses were A$1 billion with 89,518 claims lodged.
In the week to February 4 the bureau's site at Townsville Aero recorded 1052.8mm of rain, and then 1,257mm in the 10 days to February 6. The previous Townsville record for a seven-day rainfall period was 886.2mm, in 1998, and 952.5mm, in 1953, for a 10-day period.
In total, there was 1.4 metres of rain in less than two weeks. The storm was caused by a convergence of a monsoon and a slow-moving tropical low.
The sheer amount of rain meant that the Ross River dam reached 250% capacity, meaning the overspill dam gateway was opened releasing 2,000 cubic metres of water per second. Residents in the surrounding suburbs were warned to prepare for immediate flooding.
Insurers and reinsurers will now start worrying about the weather pattern El Nino. Steve Bowen, director and meteorologist at Impact Forecasting (which is owned by Aon), commented in its monthly nat cat update: "As the calendar begins to shift from winter to spring in the Northern Hemisphere, increased focus is now on the official arrival of El Nino."
"While currently a weak El Nino episode and not expected to have significant impacts on global weather patterns, such conditions can still enhance regional phenomena. Given that the second and third quarters are typically the costliest for catastrophe losses, there will be continued monitoring of whether El Nino may have any notable influence on upcoming events."