Uncertainty moves up the risk agenda
June 12 2019 by Andrew Tjaardstra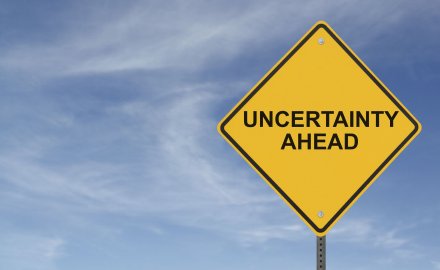 A recent news story about how robots could potentially be programmed to commit a crime and then change shape to avoid detection shows how quickly the world is changing.
Whether such a robot is in development or not, the mere thought sends shudders through the spine, while the rise of robots and cobots could have dramatic implications for the future workforce.
The uncertainty that such a robot could create is a reminder of how humans and capitalism crave a level of certainty so we can plan for the future.
Political and trade tensions in China, Hong Kong, the UK and the US, and other major countries are having a detrimental impact on businesses' ability to plan. International trade has become the bedrock of the global economy and any disruption will see global growth falter; the WTO is warning that a full-blown trade war could see trade drop dramatically.
As technology speeds up so it seems does politics, with the landscape becoming increasingly frenetic and complex — note the 10 leadership contenders in the Conservative party vying to be the next UK prime minister; and yet still none seem to have a clear plan for how to leave the EU.
Brexit and US President Donald Trump are two of the most unpredictable forces in global politics for decades and have caused a great deal of day-to-day uncertainty for larger global businesses as they try and plot their way through the risk landscape.
According to Aon's 2019 Global Risk Management Report, risk managers globally are reporting their lowest level of risk readiness in 12 years, while many top risks — including increasing competition and economic slowdown — remain uninsurable. In Asia, respondents ranked increasing competition as the number one risk.
Heightened competition is linked to other broader trends such as digitisation, as well as well-capitalised and fast-moving disruptive business models. Increased globalisation and lower barriers to entry into industries such as financial services and transportation brought new players to many sectors.
While political risk and uncertainty might be at number nine on the list in Asia, this week's protests in Hong Kong could mean it is has been pushed further up the agenda. Over a million people marched on Sunday (June 9) to ask the government to block an extradition motion that would allow the movement of suspected criminals from Hong Kong to China.
Political risk insurance has long been a source of revenue for insurers and events should see an uptick in business — as should trade credit cover.
As Sandeep Malik, Asia Pacific chief executive, Aon comments: "Businesses can no longer rely on traditional risk mitigation strategies amid increasing uncertainty, trade policy disputes and speed of technology change. Instead of traditional risk transfer, risk managers must embrace robust risk management strategies to protect their organisations from potential volatility while maximising growth opportunities."
We are living in highly unpredictable times where a Trump tweet can move markets. This means brokers, insurers and reinsurers will need to support Asia's risk community more than ever.