Typhoon Mangkhut: Hong Kong's claims breakdown
March 25 2019 by Andrew Tjaardstra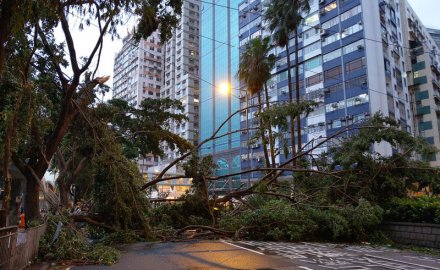 According to statistics from 59 insurers, which account for more than 80% of Hong Kong's market share, there were around 32,000 claims costing insurer HK$2.9 billion (US$370 million) from Typhoon Mangkhut last October — Hong Kong's strongest ever storm.
The breakdown of claims, according to data compiled by the Hong Kong Federation of Insurance, included 11,399 claims for property damage, business interruption and contractors' all risk. The HK$2.1 billion for property damage took up the vast majority of insurers' payouts. There was a further HK$53.8 million for business interruption and HK$478.3 million for contractors' all risk.
There was a total of 19,912 claims for employees' compensation (EC), motor and travel, with HK$4 million for EC, HK$113 million for motor claims and HK$33.2 million for travel claims.
In addition, 531 marine claims were lodged. Cargo claims cost insurers HK$18.6 million, hull claims caused HK$79.7 million of claims and marine liability claims cost insurers HK$4.9 million.
"Close to 32,000 claims were lodged for various types of insurance, with claims amount reaching close to HK$2.9 billion," said David Alexander, chairman of the General Insurance Council of the Hong Kong Federation of Insurers and head of P&C reinsurance for Hong Kong and Taiwan at Swiss Re.
"Over 70% of claims, i.e. HK$2 billion, was incurred by property damages. When comparing the figures with those arising from Typhoon Hato [in 2017], we saw a 500% surge on reported case count," said Clement Hau, deputy chairman of the HKFI's Fire Insurance Association.
"These alarming figures remind us the importance of insuring your properties against catastrophic risks. Currently, 80% of households do not have household insurance and are exposed to huge risks. Tenants or home-owners should consider taking out sufficient cover to protect their properties against catastrophic loss."
The storm also caused widespread damage in the northern Philippines, Macau and southern China.