Troubled waters
August 25 2017 by Nick Ferguson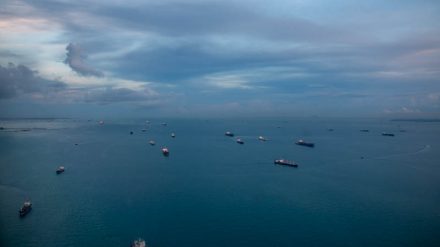 When a US Navy destroyer collided with a merchant vessel in the Singapore Strait on August 21, it represented the fourth incident involving American warships in Asia this year and raised questions about the Japan-based Seventh Fleet's leadership and morale.
However, the incidents also highlight the perils of shipping in the world's busiest and most congested waters. While there is little excuse for a small, fast naval destroyer colliding with an oil tanker, the shipping lanes that sweep around the bottom of Singapore are an infamous choke point for vessels travelling between Asian exporting nations and the Suez canal.
Indeed, more than a quarter of shipping losses during 2016 occurred in the Asian maritime region, which has been the biggest loss hotspot for a decade, according to Allianz Global Corporate & Specialty's Safety and Shipping Review 2017. Losses in Asia are almost double that of the next highest loss region, the East Mediterranean and Black Sea.
Globally, shipping losses declined by 16% compared with a year earlier, says Allianz, but the figures in Asia show no such improvement, remaining stable from 2015. Overall losses were slightly below the 10-year average, though this was also a period that saw sluggish growth in world trade. As Allianz states, "The recent downturn in the shipping economy could also be a factor in benign loss activity."
The effect of the tough economic environment was epitomised by the collapse of Korea's Hanjin Shipping, which was declared bankrupt in February. A glut of orders during the boom years before the global financial crisis has landed the shipping industry with record capacity at a time of slowing trade growth, leading to economic pressures that have introduced risks of their own. Crew negligence and inadequate maintenance are growing risks, says Allianz.
A particular problem in South-East Asia is the safety record of passenger ferries, where losses actually rose during 2016, driven by bad weather, poor maintenance, weak enforcement of regulations and passenger overcrowding.
Technology offers some hope for improving safety. It is estimated that up to 96% of marine accidents can be attributed to human error, so technology that enhances safety has plenty of potential to reduce losses, though Allianz also warns that a number of incidents have been blamed on crews relying too much on technology, particularly electronic navigation tools.
As ships become more connected, there is also the growing risk of cyber attacks. Some commentators even speculated that the US Navy's collision in Singapore could have been caused by Russian hackers. While that is far-fetched (you shouldn't need any electronics to see an oil tanker), it is difficult to know how big the problem is as most ship-owners are not required to disclose breaches and have little incentive to do so.
Telematics are one option that the insurance industry is exploring to reduce losses. "We can now analyse crew behaviour and feed the insights back into training and safety," said Rahul Khanna, head of marine risk consulting at AGCS. "By analysing VDR [voyage data recorder] information we can learn lessons from near-misses and identify the actions and behaviours that can lead to crew and officers making the wrong decisions."
Such analysis has been standard practice in the aviation industry for decades and has been hugely successful, making aviation by far the safest form of transport. Though it remains to be seen if sailors will be accorded the same protections as pilots in the use of such data — in the form of no-blame cultures and strict guidelines about how and when the data is used.
Indeed, the Oil Companies International Marine Forum is quoted as being in support of "proactive analysis of VDR data on a regular basis". It is not clear that this type of approach will succeed in improving safety culture and the insurance industry would be well served by encouraging ship-owners to heed the lessons of the commercial aviation industry, including its approach to maintenance and crew training.
Another option would be to replace humans with robots — or at least to increase the level of automation. Rolls-Royce forecasts that a remotely-operated local vessel could be in operation by 2020.
"Autonomous technology has the potential to revolutionise the movement of cargo on a scale not seen since containerisation was introduced some 50 years ago," says Andrew Kinsey, senior marine risk consultant at AGCS. "Despite unknowns and regulatory issues, autonomous shipping will happen. It's just a question of when and how. And it is possible that economic pressures on the shipping industry and the need to find efficiencies, will support and speed up developments in maritime automation."
One thing is for sure: as the world economy continues to recover and Asian economies grow richer, the volume of goods being transported by sea is set to grow at a rapid pace, putting greater pressure on ports and shipping lanes. That is likely to mean vessels will continue to get larger, which in turn will necessitate greater automation — and greater potential for large losses. Managing these risks will require a steady hand at the tiller.