Tracking nat cat risk in real-time
June 19 2019 by Andrew Tjaardstra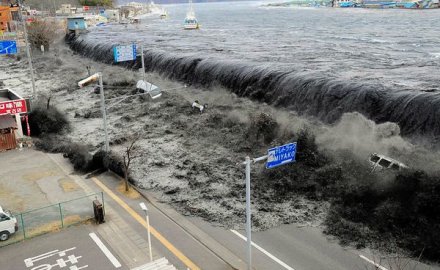 Aioi Nissay Dowa Insurance, Aon Benfield Japan and Yokohama National University have created a website powered by mapping and analytics firm Esri which predicts the number of buildings at risk in the middle of natural disasters.
Given the large number of deadly punishing nat cats in Japan last year it is a timely initiative.
The developers expect the cmap.dev website to help businesses, households and local governments to access information about disasters and swiftly establish a response plan; it also provides data on past disasters.
In the event of a natural disaster such as a typhoon, heavy rain or an earthquake, the website estimates the number of damaged buildings in each city, town and village, using the weather or seismic data.
The idea is for the forecasts to be updated every hour depending on weather conditions. For example, yesterday's magnitude 6.8 earthquake near Yamagata, which triggered a temporary tsunami warning, is already registered on the website and suggests 13,007 buildings have been damaged — or 2.21% from the total of 588,524 in the area; 26 people were injured in the quake.
The website displays the estimated number of damaged buildings within a four day period for weather perils and a two-day period for earthquakes based on models of historical data.
As technology evolves there is a huge opportunity to channel real-time data analytics of nat cats in Asia by using techniques applied to countries such as the US.
Storms are still vastly unpredictable but cameras, satellites, sensors and social media will help bring more clarity — and potentially in real time — so the insurance community can react faster and plan better.
There are several companies developing detailed flood map models of Asian countries. For example, risk modeller JBA Risk Management and Aspen Re last year developed a fully probabilistic China, Hong Kong and Taiwan catastrophe model for inland flooding.
Silicon Valley-headquartered RMS has also long been a leader in the region for nat cat modelling and recently updated earthquake models for Taiwan and six countries in South-East Asia.
Speaking in London last week at Marsh's Rising Professionals' Global Forum 2019 Barney Schauble, managing principal, at reinsurance investment adviser Nephila Advisors, commented: "Companies are providing information on the data side, using weather sensors and satellite imagery to provide more accurate forecasts than ever before; and much of the insight is freely available."
"Machine learning can help to make sense of the huge volumes of data available, distilling it down into meaningful information that will enable the catastrophe protection market to benefit from better information."
Schauble added: "It's impossible to find somebody who will sit there all day and type each address into Google Earth to tell us exactly what each house is made out of, and we've tried. But you can teach a machine to do that very easily."
There are challenges in Asia around postcodes and lack of data but things are moving very quickly in the world of risk analytics.