Tokio Marine begins Cambodia journey
December 6 2018 by InsuranceAsia News Staff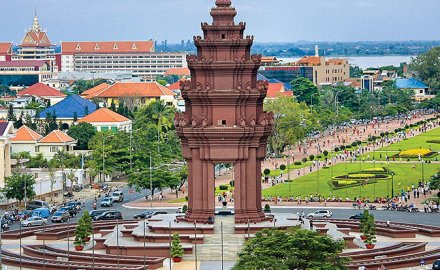 Phnom Penh-headquartered Newa Insurance (Cambodia) a joint venture between local investors and Japan's Tokio Marine & Nichido Fire Insurance, has officially launched this week.
The insurer is providing cover for lines including accident, health, motor and property, and is overseen by chief executive Dennis Lin.
Speaking at the launch event, Ly Khunthay, Newa Insurance's chairman, said: "The country's very stable political situation and strong economy has allowed us to bring this team of professionals with regional and international experience to the country."
He added: "We believe our firm will be well received by the Cambodian people as our goal is to increase their financial security."
Tokio Marine set-up a representative office in Phnom Penh in August 2017 in anticipation of establishing a core business in the fast growing country.
Cambodia, which has a population of around 16.3 million people, has 15 P&C insurers companies with a total market capitalisation of more than US$100 million in a market that is growing an average of 15% every year.
The country's general insurance market grew by 14.5% during the first three months of 2018, with gross written premiums amounting to US$24.6 million, according to the Insurance Association of Cambodia's latest report.
The country is seen as an attractive opportunity for Asia's insurers and other international investors to establish financial services operations. Recently Etiqa Insurance announced its intentions to set-up a presence in Cambodia. It is already in talks with the regulator to offer both life and P&C insurance in the country.
Speaking at a seminar last month in Phnom Penh, Bou Chanphirou, deputy director of finance and industry, said gross premiums in the industry have increased an average of 37% during the past five years.
"The insurance sector in Cambodia has progressed remarkably during the last ten years since general insurance first entered the market, followed by life insurance and microinsurance, which was established in 2012," Chanphirou said.
"This growth was enabled by the clear policies of the Cambodian government as part of its development strategy for the financial sector for the years 2016-2025."