Time for risk managers to become heroes?
May 12 2016 by Nick Ferguson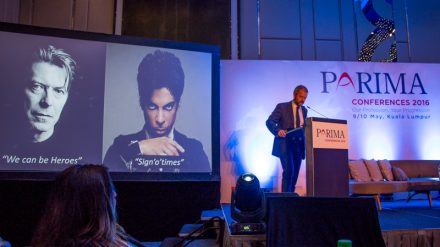 Few governments, companies or organisations in Asia take risk management seriously enough. That was the message from Parima founder and chairman Franck Baron at the organisation's event in Kuala Lumpur this week.
In reference to a song by David Bowie, who died earlier this year, Baron said that it was "time for risk managers to become heroes". The Pan-Asia Risk and Insurance Management Association is at the forefront of this effort, aiming to raise standards in the region and to push for risk managers to be recognised as a true profession rather than simply a discipline.
"The risk manager is a vital capacity for organisations and should be seen in this way," said Baron.
To further this vision, Lloyd's and Parima announced during the conference that they have joined forces to offer professional development training for risk managers in Asia, based on a similar scheme offered by Parima's European counterpart.
The programme will provide insight into the latest emerging risks, an understanding of the underwriting process and how a risk is accurately priced, an understanding of international insurance regulations and their impact on insurance programmes, and also how claims are handled and efficiently processed.
Baron, whose day job is group general manager for risk management and insurance at International SOS, also championed the importance of the insurance industry and complained that chief financial officers spend far more time with bankers than they do with insurers.
"At the end of the day, insurers and the insurance industry are as critical financial stakeholders as banks," he said.
Several incidents in recent years have highlighted the need for better risk management, and none more so than the explosions in the port district of Tianjin on August 12, 2015. It was Asia's biggest manmade loss event to date, claiming 173 lives and 800 injuries.
Baron argued that the disaster raised several issues of concern. In particular, he is worried that the pricing of insurance for catastrophic risks in Asia is unsustainable.
"I'm really amazed, negatively," he said. "This is a bigger issue in Asia than in any other region of the world. The fact that we have a very competitive insurance market does not give room for appropriate pricing for catastrophes."
At the same time, the region's insurance industry is not doing enough to incentivise good risk management. With pricing so tight, the difference between a well-managed risk and a poorly-managed risk is too small to encourage firms to invest in proper risk management.
More also needs to be done to take advantage of technologies such as big data. "We tend to believe that we are very good at capturing information and data mining, but honestly speaking I believe a lot of the companies that were impacted in Tianjin had no clue about the level of assets they had there or the way they were stored, managed and secured. There is still a lot to do."
This was a recurring theme — there is a lot to do in many areas. It is not just companies. There were also plenty of lessons for public authorities and governments after Tianjin. More than 100 of the fatalities were firefighters who died because they had inadequate information about what they were dealing with, which should prompt a review of attitudes to safety regulations and enforcement, as well as training and preparedness for crisis response.
Such problems are common throughout the region. The devastating Nepal earthquake, which cost more 9,000 lives, provided another example of how a poor response from authorities, coupled with widespread under-insurance, can make natural disasters much worse. In Bangladesh, the Rana Plaza building collapse provided a grim reminder of why western companies outsourcing their manufacturing to emerging nations should do a better job of providing proper health and safety standards.
Baron promised that Parima would lend support to efforts to improve resiliency in the face of such catastrophes.