The (very) long road to Asean integration
November 6 2015 by Nick Ferguson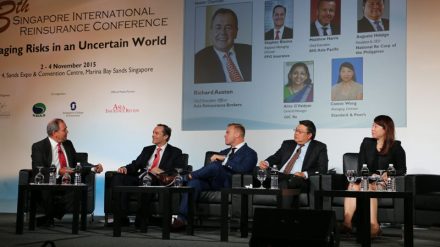 For all the fine talk about Asean, realists are acutely aware that cross-border integration is a long, slow process even in the best circumstances.
The European example is illustrative. It is more than 60 years since the region's leaders signed their first agreement, but the harmonisation of the insurance industry across the EU is still a work in progress — and many insurers in Asia would question whether Solvency II is even a step in the right direction.
At the final panel discussion held at the Singapore International Reinsurance Conference this week, a group of industry specialists talked about how realistic Asean's goals are.
The Asean Economic Community was adopted in 2007 as a blueprint to achieve the free flow of goods, services, investments and skilled people within the region by 2020. That was subsequently brought forward to 2015.
All the panellists agreed that such goals are positive for the industry, but the overwhelming sense was that Asean is not about to make a huge leap with just one agreement. While trade liberalisation has progressed well, there is still much work to be done in financial services.
"The approach we have to take to get a product approved in Thailand, for example, is very different to how we have to go about it in Singapore," said Matthew Harris, AIG's chief executive for Asia Pacific. "If you look at the rules and regulations around agency management or capital requirements or almost any aspect of the supply chain, there's really not a lot of harmony."
While that is an administrative and compliance headache for the insurers, the cost is ultimately passed on to end-buyers of insurance through higher premiums. "If we had a completely harmonised framework, it has to be more cost-effective for the industry and that has to have a knock-on effect for customers," said Harris. "But it's a complicated place to get to."
All of the panellists agreed that the ability to move staff freely around the region would be a huge benefit, both for their businesses and for the development of the regional skill base — but that this was another area where progress has been disappointingly slow.
Even so, learning from the experience of integration in Europe and North America could help Asean to make faster progress, according to Augusto Hidalgo of National Re in the Philippines, who declared himself "cautiously optimistic".
Few in the audience seemed to share that optimism. One delegate observed that much of Europe's integration had been underwritten by Germany. Are Singaporeans willing to play that role in Asean?
"Singapore is the greatest beneficiary of Asean, so why wouldn't they?" asked Stephen Blasina, regional head of insurance at FPG. "We know that Singapore invests — they have two of the biggest investment companies in the world. I could be wrong, but they stand to benefit from it."
Whether Singapore is big enough to do so is perhaps a more important question. Can it really maintain a sensibly Singaporean diversified investment portfolio while also underwriting an integration programme for a region of 600 million people? It's difficult to envisage.
Others worried about tax harmonisation and resistance from small and medium-sized local insurers, which may feel as though closer integration inevitably favours the big players.
There are clearly many challenges ahead, far beyond 2015 or even the financial integration plan scheduled for 2020.