Covering China's renewable energy surge
February 26 2020 by Yvonne Lau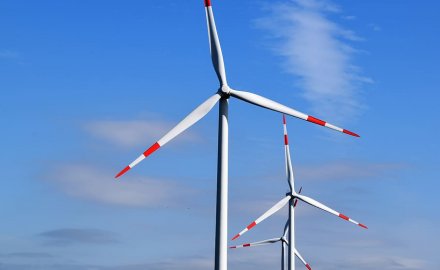 The last decade has seen the global renewable energy market gain traction.
A joint report by the United Nations Environment Programme and Bloomberg New Energy Finance found that US$2.6 trillion has been invested in renewable capacity worldwide from 2010 to 2019. This translates to 1.2 terawatts of new renewable energy – a long necessary change to help counter the impacts of global warming.
In 2018 alone, this market generated US$272.9 billion – "outstripping investments in new fossil fuel generation," notes the same report.
In China, the world's top consumer of primary energy, renewables are seen as a key national priority. The country's current target is 35% clean energy by 2030. The sector has surged quickly with China now accounting for over 30% of renewables investment globally.
Premium growth
The International Energy Agency (IEA) forecasts 40% of global growth in solar and wind projects will come from China in the next half decade.
Ray Zhang, executive director of power and renewable energy China at Willis Towers Watson, told InsuranceAsia News (IAN): "Wind, especially offshore, will have significant growth in the next five years. (Re)insurers in China will increase the capacity for cover on risk of wind, solar and hydro [projects] – even though the loss ratio for wind and solar is not good."
China's offshore wind grid capacity is expected to reach 10.84 GW this year with US$11 billion in new projects lined up. China's wind, solar and hydro premium rates are flat so far in 2020, compared to 2019; and the economic slowdown in the country will mean more competition amongst domestic insurers, says WTW's Renewable Energy Market Review.
"The massive boom in offshore wind in South China and Taiwan will test the limits of accumulation and may put further strain [on their] nat cat capacity." Patrice Nigon, Swiss Re Corporate Solutions

On solar and hydro initiatives, Zhang added: "Most developers will have financial difficulties in developing new solar farms. We don't foresee the construction of many [new] hydropower projects, due to environmental concerns."
Technical vulnerabilities
While there is potential, technical vulnerabilities and risk management pose challenges for market participants.
Renewable energy production can be unstable, due to reliance on solar and wind sources governed by weather, and the role played by climate change.
Patrice Nigon, Swiss Re Corporate Solutions' head of engineering and construction Asia Pacific, told IAN of additional risks: "Besides typhoon and earthquake risks for wind projects, we have additional exposures like design issues and longevity of equipment. When in operation, the predictive maintenance is key, which is not necessarily the first priority in some cases."
Nigon added: "The massive boom in offshore wind in South China and Taiwan will test the limits of accumulation and may put further strain [on their] nat cat capacity. Climate change and changing weather patterns will also have an impact that can't be ignored. For solar projects, besides nat cat exposures, we see more floating [non-traditional] solar farms across Asia – these are new technologies linked with new exposures."
Unfortunately, this complexity can lead to the market charging insufficient premiums. Nigon warns that "insurers need to keep their technical knowledge abreast of these developments, as China is developing very fast in the renewable energy field."
Despite these risks, (re)insurance players are innovating; for example, risk transfer solutions (parametric and index-based insurance) to complement traditional construction and operational coverage, noted Nigon.
Regulation is also an issue.
Zhang said: "The Chinese regulator is not positive in approving some new policy wordings to cover emerging insurance demand of renewable energy. For example, the long-term policy for weather-index risks, performance warranty, revenue shortfall and alternative risk transfer solutions."
An added hurdle is China's still-abundant reliance on coal, with coal plants providing 70% of the country's electricity capacity. Though the state is driving renewables, "the demand of renewable energy in China is unlikely to overtake coal in the next ten years," said Zhang.
Power shift
Although the renewable space in China holds potential, clean energy projects are long-term investments, involving a large value chain of involved parties, complex risks and affected by weather patterns.
However, China's determination to go green should drive greater investment into the space and the phasing out of emissions-heavy energy like coal. This will be done through public and private, and domestic and international collaboration – and (re)insurance will play a key role.
Expect market sophistication and renewable premiums to grow – and for more competition in the future.