Terror risks evolve
July 5 2019 by Nick Ferguson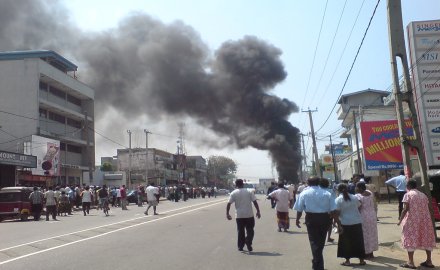 Terrorism risk has declined at the global level during the past year, but several countries in Asia Pacific are bucking that trend. From the Easter Sunday bombings in Sri Lanka to the attacks on mosques in New Zealand, terrorism remains a dynamic and complex threat in the region.
Globally, the number of people killed in terrorist attacks around the world dropped by more than a quarter compared to 2017 and the total number of attacks around the world fell by nearly a third, according to Marsh's latest terrorism risk insurance report. The economic costs of terrorism peaked in 2014 at almost US$100 billion alongside the rise of the Islamic State, and costs have fallen by nearly half since then.
But the significant incidents we have seen in Asia Pacific this year highlight the continuing risk. The religious extremism that motivated the coordinated bombings of hotels and churches in Sri Lanka in April continues to be the dominant threat worldwide, while the right-wing extremism behind the mass shootings at mosques in Christchurch is an emerging threat in both Australia and New Zealand, as well as many other western countries.
"Despite its ebbs and flows, terrorism remains an evolving, expanding and ever-present risk," said Tarique Nageer, terrorism placement and advisory leader at Marsh, in written testimony to a recent US Senate committee hearing.
Terrorism insurance was designed for the primary consequences of incidents such as the Sri Lankan bombings, where property is damaged and claims are straightforward to assess. For example, staff from Ceylinco General were in touch with the Shangri-La hotel in Colombo within a few hours of the bombing and made an initial inspection the next day. An upfront payment of US$1 million followed immediately to fund repair work.
However, a growing challenge for insurers and risk managers alike is protecting against the secondary effects of an attack, where property damage is minimal but there is nevertheless significant business interruption — from police cordons, travel bans, curfews and so on. This is by far the biggest economic consequence of both attacks.
Sri Lanka's tourism department said this week that tourist visits were down 57% in June and that it expects tourism revenue, which made up around 5% of the country's economy last year, to fall to US$3.7 billion from US$5 billion — compared to tourism revenue growth of 19% in 2018.
So while the Shangri-La was covered for the damage to its property, the real damage to its business is from the sharp decline in tourists and even business travellers. And this damage extends far beyond the businesses that were directly affected by the blasts.
Terrorists have always inflicted these types of costs, but they are increasingly the main damage to businesses, with many attacks now focusing on inflicting mass casualties in low-capability attacks on crowded public spaces — as seen in the Christchurch attack and many others around the region and the world.
Swords, knives, vehicles have all been used to inflict casualties in attacks that caused little or no property damage. For example, two-thirds of terrorist attacks in western Europe between 2014 and 2018 did not generate any property damage, according to Pool Re.
Insurers are responding to such threats with new approaches, including non-damage business interruption that is triggered by an incident within a predetermined distance from an insured location. Some policies protect against incidents involving active shooters or malicious attacks, with coverage for everything from property damage to loss of business, denial of access and psychiatric care.
Another growing source of exposure in the region is China's Belt and Road initiative, which has seen significant investment in some of the most dangerous parts of the world, such as the separatist Balochistan enclave in Pakistan, where sporadic attacks on Chinese individuals and infrastructure assets have resulted in a series of casualties since August last year and caused project disruption in the China-Pakistan Economic Corridor.
Most of that risk is currently underwritten by Chinese insurers, but specialist international insurers are increasingly getting involved to provide capacity.
While the fall of Isis in the Middle East has affected the global trend, here in Asia and in many other parts of the world, terrorist threats continue to evolve and are harder to cover than ever. The good news is that pricing for the coverage that's available is expected to remain competitive in 2019, according to Marsh.