Targeting Asia's greying population
September 1 2017 by Nick Ferguson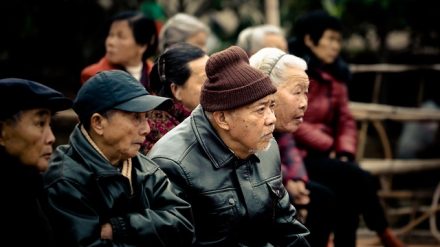 Insurance companies in Asia could be missing a trick by not offering more retirement income products to the region's ageing population.
While plenty of insurers are developing or already sell investment-linked products, the majority of these are not strictly aimed at providing an income in retirement. Indeed, they are mostly sold as straight investment products, and are especially popular in Hong Kong, Singapore and Taiwan — with mainland Chinese customers often the target.
The greying of the population in East Asia and the Pacific is happening faster than anywhere else in the world, according to the World Bank, and national retirement systems are generally not prepared. In Singapore and Malaysia, for example, the average person is expected to live for 20 years after the typical retirement age, while a quarter of Japan's population is already over 65 and countries such as Hong Kong, Korea and Taiwan are rapidly heading in that direction.
So why aren't insurers focusing more on the potentially large retirement market? Milliman posed this question recently and found that there are several key reasons.
The main obstacle cited by insurers was a combination of regulatory and tax issues, pricing and solvency requirements, which tend to mean that insurance products are not competitive with other non-insurance retirement options such as mutual funds or bank deposits.
Distribution issues were also identified as a major impediment, primarily by respondents in India, Indonesia and Malaysia, while inadequate capital markets in most Asian jurisdictions mean there is a dearth of fixed-income assets with tenures exceeding 20 years, which results in penalties for durational mismatching in markets with risk-based capital regimes.
This failure to provide retirement products would not be a problem if governments were prepared to cope with their elderly populations, but this is obviously not the case. Across Asia and even including Australia, 0% of respondents to Milliman's survey considered retirement income provisions to be adequate for the majority of the population — and more than half said they were adequate for less than 30% of the population.
Even if governments can put in place a regulatory and tax system that supports the development of retirement income products, at the same time as encouraging the issuance of long-term fixed-income assets, there are still some thorny issues to overcome.
For example, distrust of financial advisers and the financial services industry in general were among the main barriers to delivering financial advice more broadly cited by respondents to the survey. This suggests there is still a significant amount of education needed to persuade people in Asia that retirement products are worthwhile.
Insurers can start by adopting a laser focus on customers' goals, according to Milliman. This means being more sophisticated in the way they segment their customers and tailoring communications and product solutions for them. Such efforts also require an increasing focus on technology and best-of-breed business models.
Needless to say, most markets in Asia are a long way from offering this type of sophistication widely, but big data and open-architecture systems are increasingly allowing insurers to offer truly personalised solutions that can calibrate retirees' goals and spending expectations — and which can be adjusted in response to changing goals or risk appetites.
The opportunity for these types of solutions is clearly significant, but it remains to be seen how quickly insurers in the region will be in a position to roll them out.
MORE FROM: Asset Management