Tahoe Group's Huang under pressure after China blacklisting
April 27 2020 by Andrew Tjaardstra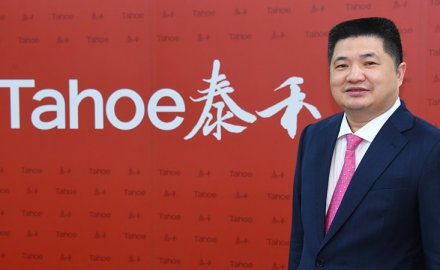 Huang Qisen, the founder and chairman of Chinese conglomerate the Tahoe Investment Group, has been placed on a debtors' blacklist by China's Supreme Court, according to a report in the Financial Times.
Huang (pictured) landed on the Supreme Court's public database after failing to repay loans to a Chinese trust company. Moody's said in March that the company had US$4.3 billion in short-term debts and downgraded its debt to Caa1 with a negative outlook.
In addition to already having a large debt load, the group, alongside other property firms, has been hit by the impact of the coronavirus which has seen the housing and construction sectors slowdown sharply.
The blacklist means Huang can no longer travel first class or attend nightclubs and means that the Chinese government is watching him closely.
According to analysis by the Financial Times, the Tahoe Group has around US$730 million in US dollar bonds maturing over the next 12 months, and a US$530 million bond maturing in January 2021. Tahoe Investment Group was founded in 1993 and has over Rmb257 billion (US$36.3 billion) in assets.
The group expanded in 2016 when it bought Hong Kong insurer Dah Sing Life and Macau Life Insurance for HK$10.6 billion (US$1.37 billion at today's exchange rate).
The deal included exclusive 15-year bancassurance partnerships with Dah Sing Bank and Banco Comercial de Macau. Dah Sing Life was lrenamed to Tahoe Life in 2017 and, since January this year, has been overseen by chief executive Allan Yu – a Hong Kong market veteran who helped with the initial deal – at the time one of the most expensive in Hong Kong's history.
In January, Huang, who is also chairman of Tahoe Life, commented: "[Yu] is an industry veteran who has outstanding leadership capabilities and extensive networks within the industry. I have the highest confidence in Yu and his team who can lead Tahoe Life to drive profitable growth with the unanimous support of the board."
A Tahoe Life spokesperson told InsuranceAsia News: "Tahoe Life's operations and finances are independent and completely ring-fenced from Tahoe Investment Group and its subsidiaries, including Tahoe Group. The assets of Tahoe Life are completely separated from the mother company and its subsidiaries. Tahoe Life doesn't directly and indirectly invest in any projects of the mother company and its subsidiaries, and doesn't give any financial assistance to the mother company and its subsidiaries."
The spokesperson added: "Tahoe Life's operations and finances are subject to the supervision of the Insurance Authority in Hong Kong and the regulatory authorities in Bermuda, and fully comply with the regulatory requirements. Tahoe Life adopts a strict risk management approach and a prudent investment strategy."
The spokesperson continued: "The company has a very solid financial foundation and our solvency ratio is consistently maintained at a level above the regulatory requirements. The company can fully fulfil the capital needs for policy claims and surrender upon maturity with its high liquidity."