Swiss Re's Victor Kuk on partnerships, claims and automation
December 14 2021 by Andrew Tjaardstra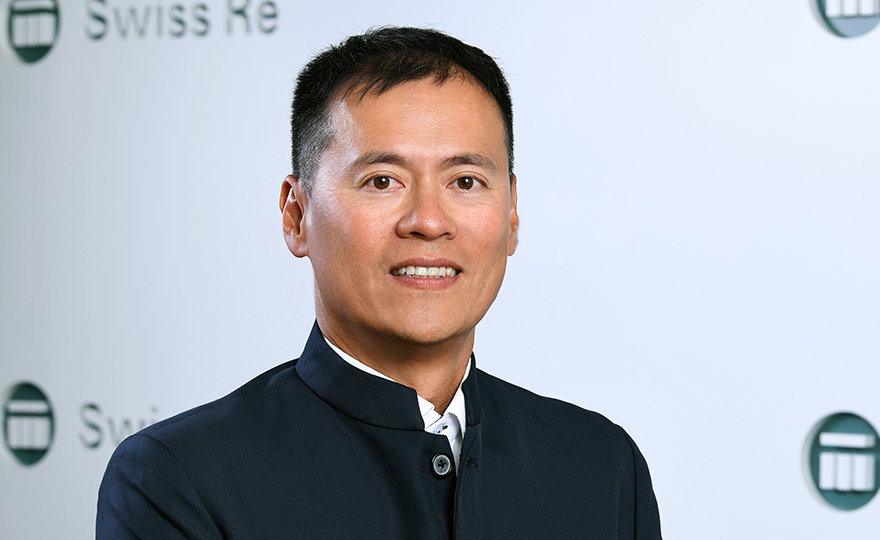 InsuranceAsia News (IAN) recently caught up with Victor Kuk, Swiss Re's head of P&C reinsurance for SID (South-East Asia, India, Hong Kong, Taiwan and South Korea).
Hong Kong-based Kuk discussed some of his expectations for Asia's (re)insurance market over the next 12 months including the increased digital consumption of insurance, the importance of partnerships, the gig economy, telematics, claims and risk awareness.
IAN: Looking ahead to 2022, what do you see as the key themes in the Asia P&C insurance space?
Kuk: 2021 has highlighted the urgency to close large protection gaps in the region, cementing positive paradigm shifts for insurance.
In most markets, one shift is a significant increase in risk awareness as a strong demand driver – driven by the pandemic and recent secondary peril events (H1 2021 nat cat losses – US$40 billion). A second shift is the acceleration in demand to transact online following a boost in digital adoption. This is validated by research we've conducted recently in the region. The Swiss Re Institute estimates the digital P&C personal lines market could reach a cumulative US$7.5 billion in premiums over the next five years in South and South-East Asia alone, and survey results show that 40% of consumers would prefer to buy P&C personal lines insurance online.
New insurance needs are evolving and the industry must continue to invest in solutions, technology and data offerings to support clients and capture growth opportunities. With increasing loss trends it's also critical to ensure pricing is adequate for the risks taken.
IAN: There have been lots of challenges around lockdowns over the last 24 months – do you see insurance evolving to become more flexible to reflect a more uncertain world?
Kuk: We believe it must. Asia has seen its number of digital consumers grow exponentially over the past few years — a trend accelerated by pandemic induced lockdowns and expected to extend into the future.
Insurers today are presented with a unique opportunity to close the online protection gap through developing simple, modular products, streamlining the digital onboarding process and educating the consumers to enhance greater trust and familiarity with digital insurance offerings.
At Swiss Re we are keeping up with this trend by bringing together the right technology, partners, risk data and product expertise to enable insurers to develop more digitalised and personalised customer journeys. Recently, we partnered with Food Panda, Igloo and MSIG Singapore to provide increased protection for gig economy workers following the pandemic induced food delivery boom. Through this collaboration we provide monthly coverage for accidents including accidental death and hospitalisation, plus smartphone damage protection for Foodpanda's delivery drivers and riders in Singapore.
IAN: How well do you think the Asia P&C market is coping with the digital claims process and where it can improve?
Kuk: Technological advancements will play a key role both in increasing insurance uptake, enhancing customer centricity and improving underwriting performance. Developments in remote sensing, drones, IoT and telematics are driving forces to improve the efficiency for loss and damage assessments, as well as for claims management and customer experience.
Swiss Re's own internal digital claims transformation has been underway for more than a decade, utilising end to end standardisation to reduce system complexity and increase operational efficiency. Digitisation allows for processing of large volumes of data with low to no touch processing, and process automation allows for faster decisions and smoother execution.
We've also improved our reporting landscape which allows our claims experts to manage their claims on a portfolio basis, rather than individual claims. This allows us to have an increased focus on complex claims adjudication, where our clients see the most value. As clients in the region progress and explore their own digital claims journey, we continue to share insights from our own claims transformation as a as an example of how such changes can be implemented.
IAN: As Asia's P&C market becomes more sophisticated, where do you think insurers should be investing their resources to be the winners of the future?
Kuk: The pandemic has cemented positive paradigm shifts for insurance – rising risk awareness as a strong demand driver, and an acceleration in demand to transact online. With this in mind, it is imperative that insurers offer digital engagement at all touchpoints as they compete with new, non-traditional players entering the consumer insurance market. Investment in digital capabilities combined with gradually back to normal physical interactions will improve reach and sales capabilities in a more cost-effective manner.
With Asia's unique exposure to climate risk, we must also continue to invest, partner and collaborate in this space. Here the industry has a responsibility to analyse damages and claims patterns to anticipate trends, formulate underwriting solutions for emerging hazards, and send risk signals that encourage behavioural changes.
The increased risk awareness we see today won't last forever, and it should serve as a call to arms for the insurance sector to work together to get something meaningful done.
As we look forward into 2022, the fundamentals for Asia continue to be positive and our ambition remains to help businesses, governments and our clients bring more people under the shelter of insurance.
Partner Content
Customers are responding positively to several key initiatives in the region.

Russell Higginbotham, Swiss Re's CEO Reinsurance Asia, discusses the impact of climate change for life and health (re)insurers in the region.